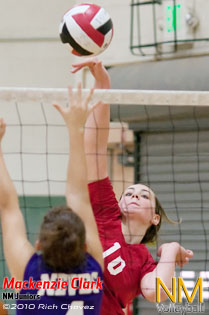 NM Juniors player, Mackenzie Clark, has been selected to participate on the USAV Women's Junior Continental Team this summer. Mackenzie, will participate with the team at the High Performance Championships in Wisconsin Dells, Wisconsin, July 22 – 30, 2010.
Clark, a middle with Rio Rancho, is headed into her senior year and is another fantastic hitter developing in the Manzanares camp.
Congrats, Mackenzie!