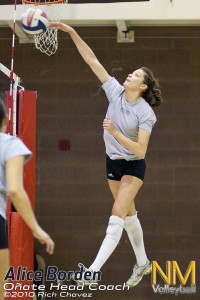 Congrats to Alice Borden, who was named as head coach at Oñate High School, in Las Cruces, NM.
Borden takes over for Jennifer Jordan, who resigned in late March for personal reasons.
Borden has had a distinguished volleyball career. A standout at Gadsden High School in Anthony, NM, Borden played for the New Mexico State Aggies from 2003-2007. After a brief stint as a color commentator covering NMSU volleyball, Alice returned to her roots as an assistant at Gadsden under head coach Al Rosen for the 2009 season.
"She did a good job here, and I'm sure she'll do the same there as head coach", said Rosen.
The Black Knights, a team that has seen its fair share of struggles over the recent years, had been set back on course by Coach Jordan. With the improvements came a bid to the 2009 State Tournament–look for Borden to continue building on this solid foundation.