Al Rosen is the head coach of the Gadsden Panthers and El Paso Wildfire Volleyball Club.
A transplant from Hawai'i, Rosen is a lifelong student of the game. A straight shooter with high expectations of his players, he has found a consistency and success that eludes many of his colleagues; in 2010 the Wildfire was ranked as high as #25 in the nation, and had a fantastic run at the Junior Olympics, finishing 11th in the 17s Open Division.
The success doesn't end there–prep-wise in 2009, Gadsden made a deep run at the state championship, falling to the eventual champs, Rio Rancho in the semi-finals. The Lady Panthers also received a #1 preseason ranking by the New Mexico High School Coaches Association, alongside none other than Rio Rancho.
All these achievements have made Gadsden a top-notch environment to play and enjoy the game. If you're in the neighborhood down south, you'll find some wicked volleyball, great people and some of the nicest kids around–it's worth the trip.
On a personal note, Al has been a fantastic supporter of NMVolleyball.com and has always made time to make contributions–it makes perfect sense he should be the inaugural coach interview!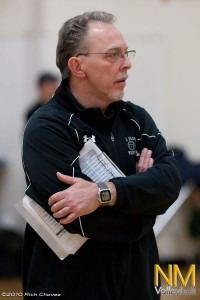 Talk about your salad days/experience with volleyball in Hawai'i, and how it influenced your thoughts on volleyball.
Volleyball is part of the culture in Hawaii. Very popular. I remember going to the fire stations with my older sister and playing volleyball when I was about 10 or 11. Everyone seemed huge and powerful. I'm pretty sure she just went with her friends to meet the guys.
When I got to high school I became obsessed and played all the time. My friends had backyard doubles courts, we played sand vb at the Outrigger Canoe club etc… I was on a team at Punahou High that had great players and a great coach.
I also played briefly at U of Hawaii for Dave Shoji and played lots of men's club ball which is really popular there. I learned the game from coaches who were former Olympians and played with very talented guys – many of whom went on to play pro ball and others who became head collegiate coaches. I was lucky. Anything I know now about volleyball goes back to all those guys.
Who was/is your biggest coaching influence, and why?
Probably my high school coach Chris McLachlin although I'm sure I didn't appreciate it at the time. He just joined Stanford Men's team as assistant last year where his son plays and I can tell you right now that he was the reason that team went from worst in conference to first in the Nation in one year. I still use a lot of his vb "rules" and ideas today – very smart coach.
Here is a link to a brief bio:
http://www.gostanford.com/sports/m-volley/mtt/mclachlin_chris00.html
Do you have plans to go back?
I have looked into going back several times. My sister and her family still live there and I have friends who can't believe I would want to live anywhere else. They are always trying to get me to move back. Maybe after my daughters graduate from high school. Problem is that the cost of living there is pretty high.
El Paso Wildfire
Give an overall assessment of your club season.
We had a lot of doubters this year because we lost some very strong players like Rocio G. and others. We stayed at the 17 Open level instead of moving up to 18's. But the fact is that we ended up finishing better in every major tournament than we ever had before. It was actually our best season ever. We finished 11th in Vegas which is a super tough tournament.
We were one of the few teams this year to defeat Laguna Beach who was ranked number one in the country all season. We also finished 4th in Denver at the Crossroads qualifier. I can only dream about what we might of done had Caroline Brown not injured her shoulder at the Baltimore qualifier. She was never back to form the rest of the season and could not finish out the tournament at the Junior Olympic championships even though she tried. We once again got to the crossover match to  get into the gold bracket but fell just short and ended up 11th, equaling last year's finish. No other team from around here has finished higher.
Finding a replacement for Caroline Brown is going to be difficult. Do you see anyone stepping up to fill her big shoes?
Monica Corrujedo from Montwood High is the real deal. She is only a sophomore and I think she is the best outside hitter around. It is a joke that the El Paso Times did not even include her in their high school pre-season players to watch. We are hoping Caroline comes off her injury and does great things at Davidson.
What's in store for the Wildfire next season? I heard you're thinking about expanding the size of the club.
We will definitely have open tryouts this year – we had been kind of "by invitation only" in the past.
The problem is that there are only a small number of players in this area that have the tools necessary to compete at the Open level nationally. There are a lot of great kids that work real hard but the level they have to perform at to compete with the best clubs from the rest of Texas, California etc… is pretty high and you will get exposed real fast if you aren't ready for it. That has happened to some of our players. They are the "all-stars" here in high school but suddenly they are up against some blue chip D1 recruits when we travel and they have to either raise the level of their game or they end up quitting.
We have talked to other good coaches in the area but some have established their own clubs and others are just not the right fit. Believe it or not, there are a lot of politics involved with club ball. We are now looking into maybe adding a pretty young team under our banner – like a 14's.
Gadsden Panthers
Last season, Gadsden plowed through pool, knocked off Cibola in three before losing to the eventual state champ in three. Now you've had time to think, what do you think was the single biggest factor in the loss?
Like you said we played a great match that day against Cibola and I just don't think we had the experience and mental concentration to put together another match like that in the same day against a team like Rio. We had a starting team of 2 freshmen, 4 sophomores and 1 senior. We just made more unforced errors than usual and got into big holes each set.
What would you go back and do different?
I'm not sure I can think of anything we could have done. We did switch Nathalie to the middle in the third set and almost pulled off a huge comeback but overall Rio was just the better team that day.
What does the 2010 squad look like/how are they progressing?
We are progressing pretty well but there are always lots of things to work on. There are some really good teams this year out there and it will be tough as always.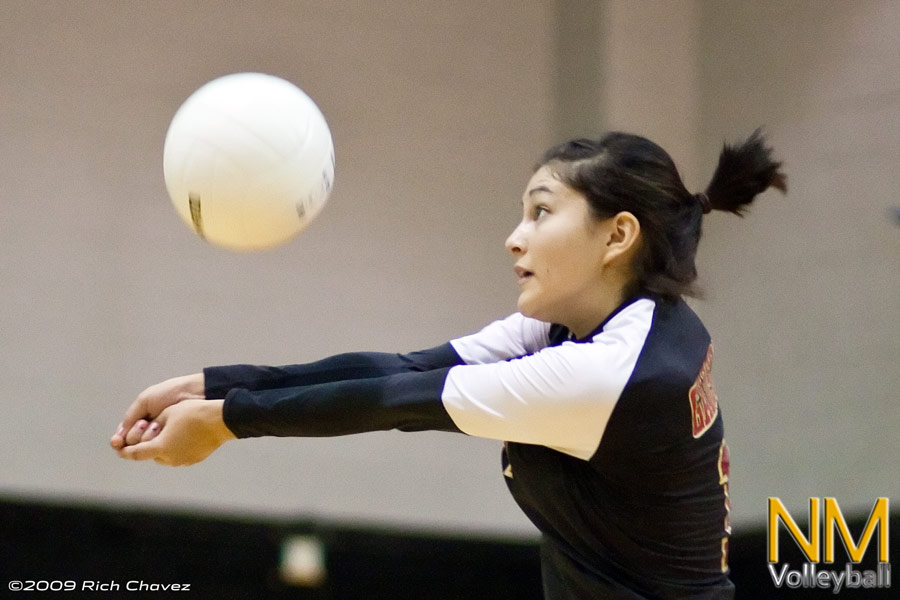 Any key losses on the team?
Liliana Carrillo was our MVP – certainly a big loss.
Key additions/players to watch?
We have a few new players but they are still learning our system and will really contribute more and more as we go along.
How do you think District 3-5A is going to shake out?
I feel it will be as tough as ever. Cruces will be good. I know Mayfield has been working hard to rebuild after losing some strong players. Alice will make Onate better and Alamo is always talented. Once again the toughest district in the State.
What do you see as your biggest hurdle this season?
I think the biggest hurdle will be to stay focused on really improving our game so that we can achieve our goal of overcoming some of the perennial powerhouses in the State and not just be that little school from down south who is pretty competitive – we want to win it all.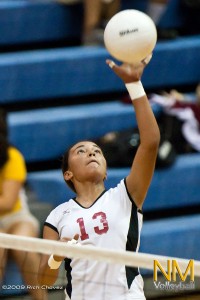 You've got one of the best hitters in the state in Nathalie Castellanos. What do you see her role on the team? Do you/have you seen her improving?
Colleges are recruiting her as we speak as a setter and I have only once used her as one when she was a freshman and our setter disappeared on us. She sets in practice sometimes but I can't afford to give her up as a passer and attacker. We just don't have the depth.
Talk about Gadsden setter Evelyn Hernandez and her progress.
Evelyn was not around much this summer for family reasons so she is just now starting to get back in form. I am very happy with how far she has come. When we first tried her she had a long way to go but she is a fierce competitor and wants to improve everyday.
How about Gadsden's OH Cristal Quinones?
Cristal has amazed me with her progress. She pushes Nathalie at practice because she is right there waiting to take her 1 slot. She has taken up tennis and it seems to have helped her game.
What do you see yourself doing in five years from now in volleyball?
I will probably still be on my never-ending year-round cycle of coaching club and high school.
Have you thought about coaching at the next level?
I would love to coach at the next level. I think the higher the level, the more fun the tactical side of volleyball becomes and that is where I get the most satisfaction from. If Coach Jordan would hire me – I'd do it in a heartbeat.
What is your dream job?
My dream job would be coaching or assisting at some international or professional level of volleyball. The sport is very beautiful when it is played that way.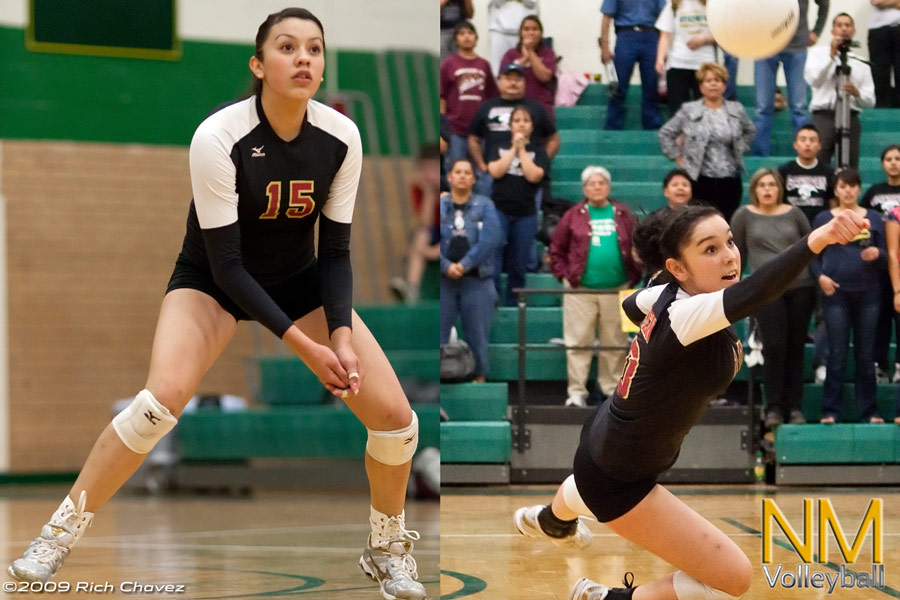 Selected Resumé
El Paso Wildfire – 2006-2010
USAV National Jr. Olympics – Qualified as #1 Seed, 2008 & 2009
Colorado Crossroads Nat. Qualifier – Gold Division Champions, 2008
1st Place Sun Country Regional Tourney, 2007, 2008, 2009, 2010
Head Coach – Gadsden High School, 2006-2010
Head Coach – New Mexico 5A South Senior All-Star Team, 2009 Champions
New Mexico 5-A State Championship, Semi-finalists – 2009, Quarter finalists – 2008, 2007, 2006
1st place – New Mexico Dist. 3-5A regular season – 2008, 2007
Coach of the Year – New Mexico District 3-5A – 2008, 2007
Voted All-State 5A Coach of the Year – New Mexico, 2007
Player Experience
Collegiate VB player at University of Hawaii,  Coach – Dave Shoji
1977 UCLA Men's Indoor Doubles Volleyball Champion
Back to Back State Champion as player, Punahou High, Hawaii