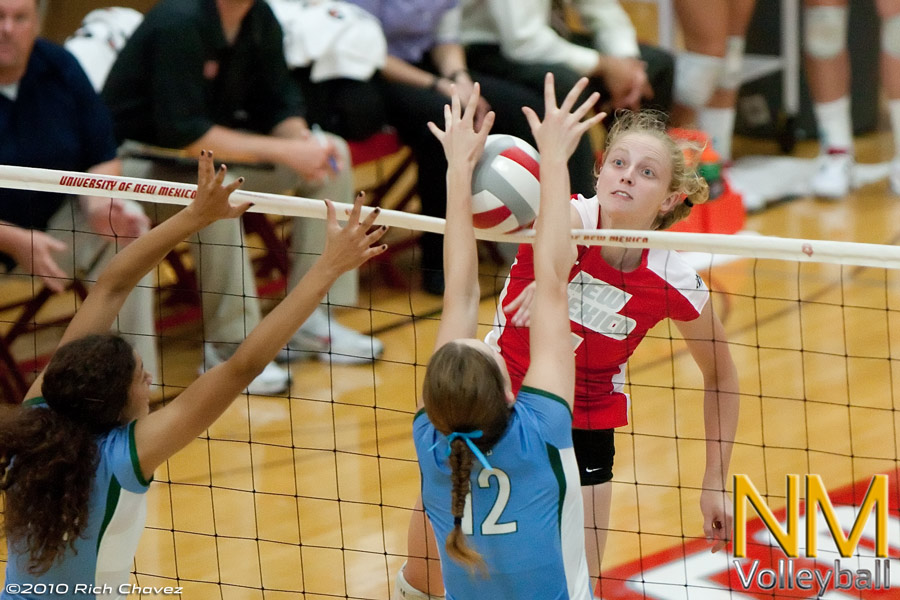 Download the UNM September 2010 Game Notes (PDF)
Up Next in 2010 Lobo Volleyball
Matches #7-9 – Comcast Lobo Challenge
Sept. 10 – vs. Sacramento State, 1 p.m.
Sept. 10 – vs. SMU, 7:30 p.m.
Sept. 11 – vs. UC Santa Barbara, 2:30 p.m.
Johnson Center • Albuquerque, N.M.
Follow Along … GameTracker and All-Access Lobo TV will be available for all three matches through links on GoLobos.com.  Neutral matches will also be available through GameTracker and Lobo TV.
Against Sacramento State (4-3) … This will be just the third meeting between the Lobos and Sacramento State.  The Hornets lead the series 2-0.  The last time the two met was in Albuquerque on Sept. 20, 2003, a Lobo 3-1 loss.
Against SMU (5-1) … New Mexico leads the series 3-1, including a 2-0 record in Albuquerque.  The last meeting between the two was a 3-2 win for UNM on Sept. 20, 2002.
Against UC Santa Barbara (3-3) … The Lobos lead the series 3-2, winning the last three meetings.  The teams faced each other in the 2009 MCM Elegante Lobo Classic championship game on Aug. 29 with UNM winning, 3-2.
Next Week … The Lobos will host Rio Grande rival New Mexico State on Sept. 14, followed by three matches against South Florida, Jacksonville and Florida Atlantic in the Hilton Garden Inn Invitational in Tampa, Sept. 17-18.
• The Lobos received votes in the AVCA Top 25 Coaches Poll for the first two weeks of the season. Six current Lobo opponents are receiving votes in the poll – No. 2 Stanford, No. 6 Hawai'i, No. 8 USC, No. 15 Colorado State, RV Michigan State and RV New Mexico State.
•  Senior Taylor Hadfield was named to the Hawaiian Airlines Wahine Classic All-Tournament Team over the weekend.
•  Senior Jade Michaelsen has been named one of the Top 30 finalists for the Lowe's Senior CLASS Award.  The award recognizes seniors from all over the country for their achievements in competition, classroom, community and character.
•  The Lobos' match on Nov. 13 vs. Wyoming scheduled for The Pit has been moved back to the Johnson Center due to scheduling conflicts.
About New Mexico (2-4, 0-0 MWC) … Senior middle blocker Taylor Hadfield was named to the Hawaiian Airlines Wahine Classic All-Tournament team … The Lobos earned second place in the MCM Elegante Lobo Classic with wins over Pepperdine and Tulane and a loss to No. 4 Stanford.  Taylor Hadfield and junior outsider hitter Kelly Williamson were named to the all-tournament team … New Mexico received votes in the 2010 AVCA Preseason Poll (40th) and the Aug. 30 poll (27th) … UNM will face 10 teams receiving votes in the preseason poll this season … The Lobos were picked fourth in the 2010 Mountain West Conference Preseason Poll, eight points out of second … Senior setter Jade Michaelsen was named to the All-MWC Preseason Team … Jade Michaelsen and senior outside hitter Lisa Meeter are the team captains for 2010.
About Sacramento State (4-3, 0-0 Big Sky) … The Hornets, under the direction of third-year head coach Ruben Volta, went 2-1 in the Corvallis Invitational and 2-2 in the Sacramento State Invitational to start the 2010 season.  Sophomore outside hitterJanelle Currey leads the Hornets with 4.30 kills per set and 14 service aces.  She is second in digs with 104.  Junior middle Kelsey Elston leads the front row defense with 40 total blocks.
About SMU (5-1, 0-0 Conference USA) … The Mustangs, under the direction of head coach Lisa Seifert, went 3-0 in the Baylor Invitational and 2-1 in their home tournament over the weekend.  Junior outside hitter Dana Powell and senior outside hitter Kathryn Wilkerson lead SMU with 3.35 and 3.04 kills per set. Senior middle Caitlin Adair and sophomore middle Courtney Manning lead the front row defense with 25 and 23 blocks each.
About UC Santa Barbara (3-3, 0-0 Big West) … The Gauchos, under the direction of head coach Kathy Gregory, went 2-1 over the past weekend with wins over San Francisco and Washington State.  Gregory is in her 36th season at UCSB.  Junior middle blocker Stacey Schmidt leads UCSB with 3.00 kills per set and 21 blocks.
Current RPI rankings … The official NCAA RPI rankings will come out in the next few weeks.  Richkern.com has the Lobos ranked 38th overall and a Pablo ranking of 35th.  The RKPI will not be available for a few more weeks.  It will be interesting to see what UNM's strength of schedule numbers look like in another week since the first six opponents of the season rank from #7-70.
Michaelsen Aiming For Lobo All-Time Career Mark … Senior setter Jade Michaelsen moved into third on the UNM career assists list during the Sept. 3 match against No. 10 USC, passing Sharon Browning (3,214; 1989-92).  She reached the 3,000 career assist mark in the third set of the TCU match on Nov. 20, 2009.  She needs 17 assists to move into second place.
UNM Career Assists
1. Janelle Torres 3,794 1996-99
2. Alicia Bergmann 3,283 1992-95
3. Jade Michaelsen 3,267 2007-present
4. Sharon Browning 3,214 1989-92
5. Jocelyn Funk 3,153 1983-86
6. Karen Saavedra-Warnock 2,845 1985-88
7. Monica Meihack 2,840 2002-04
8. Sarah Kwasigroch 2,634 2005-09
9. Gretchen Gegenfurtner 2,193 1993-96
10. Kelly Griffin 2,096 1999-01
Following The Lehne …  Former Lobo Anna Lehne blocked her way up the UNM career blocking charts, wrapping up her career in 2009 ranked second on the total blocks list.  Now it is time for some current Lobos to challenge those marks.  Senior setter Jade Michaelsen jumped on to the career block assists list at No. 10 at the end of the 2009 season with 208.
UNM Career Total Blocks
1. Chelsea Sondrup 433 2002-05
2. Anna Lehne 369 2006-09
3. Kelly Therkelsen 336 2003-06
4. Linda Archuleta 326 1980-82, '84
5. Laurel Luman 320 1990-93
6. Robyn Wentworth 313 1992-94
7. Tammy Lansford 299 1987-90
Pauline Manser 299 1988-91
Zhao Lu 299 1995-96
10. Amber Smith 258 1996-99
Closing In:  Jade Michaelsen 241 2007-present
Taylor Hadfield 174 2007-present
Ashley Rhoades 145 2008-present
UNM Career Block Solos
1. Linda Archuleta 120 1980-82, '84
2. Terri Nelson 107 1980-83
3. Tammy Lansford 86 1987-90
4. Anna Lehne 79 2006-09
5. Pauline Manser 76 1988-91
6. Sue Guinn 73 1983-84
7. Robyn Wentworth 68 1992-94
Shannon Vessup 68 1981, '83
Laurel Luman 68 1990-93
10. Kelly Knowles 62 1980-82
UNM Career Block Assists
1. Chelsea Sondrup 433 2002-05
2. Kelly Therkelsen 326 2003-06
3. Anna Lehne 290 2006-09
4. Laurel Luman 252 1990-93
5. Zhao Lu 249 1995-98
6. Robyn Wentworth 245 1992-94
7. Pauline Manser 223 1988-91
8. Vanessa Shields 216 1998-99, 2001-02
9. Jade Michaelsen 215 2007-present
10. Tammy Lansford 213 1987-90
Closing In:  Taylor Hadfield 151 2007-present
Ashley Rhoades 115 2008-present
Lisa Is Aces (and Digs, and Kills, and Points) … Senior Lisa Meeter is on the verge of cracking the UNM career service aces Top 10 list.  The outside hitter from Colorado Springs, Colo., led the team in aces two of the past three seasons, finishing the 2009 season with 30 and 84 for her career.  As a freshman, Meeter recorded 38 aces during the 2007 season, tying for eighth on the UNM Top 10 season aces list.  She is five aces away from cracking the UNM Top 10 career aces list.
Meeter is also closing in on the UNM all-time career kills Top 10 list.  She has 859 going into the weekend, needing 74 to move into 10th place by herself.  Meeter moved into the Top 10 in all-time career attempts against Hawai'i on Sept. 4.
UNM Career Service Aces
1. Terri Nielson 193 1980-83
2. Jocelyn Funk 119 1983-86
Alicia Bergmann 119 1992-95
4. Jo Anne O'Connell 115 1982-85
5. Tania Gooley 109 1991-94
6. Gayle Tripp 107 2005-08
7. Nao Ikeda 105 1986-89
8. Kelly Knowles 104 1980-82
9. Nana Allison 96 1996-99
10. Paula Feathers 95 1995-98
Closing In:  Lisa Meeter 90 2007-present
UNM Career Kills
1. Tania Gooley 1,579 1991-94
2. Maria Gurreri 1,473 1987-90
3. Jeanne Fairchild 1,238 2006-08
4. Pauline Manser 1,229 1988-91
5. Kim Hicks 1,131 1980-81, '83
6. Amber Smith 1,122 1996-99
7. Anna Reines 1,089 2001-03
8. Terri Nielson 1,074 1980-83
9. Nao Ikeda 1,040 1986-89
10. Sharon Browning 932 1989-92
Closing In:  Lisa Meeter 859 2007-present
UNM Career Attack Attempts
1. Tania Gooley 3,721 1991-94
2. Maria Gurreri 3,426 1987-90
3. Amber Smith 3,221 1996-99
4. Jeanne Fairchild 2,892 2006-08
5. Anna Reines 2,769 2001-03
6. Paula Feathers 2,679 1995-98
7. Terri Nielson 2,645 1980-83
8. Kim Hicks 2,584 1980-81, '83
9. Pauline Manser 2,549 1988-91
10. Lisa Meeter 2,464 2007-present
UNM Career Digs
1. Gayle Tripp 1,578 2005-08
2. Sharon Browning 1,504 1989-92
3. Tania Gooley 1,113 1991-94
4. Alicia Bergman 1,059 1992-95
5. Maria Gurreri 1,048 1987-90
Gretchen Gegenfurtner 1,048 1993-96
7. Nao Ikeda 1,020 1986-89
8. Paula Feathers 1,019 1995-98
9. Janelle Torres 1,005 1996-99
Nana Allison 1,005 1996-99
Closing In:  Lisa Meeter 873 2007-present