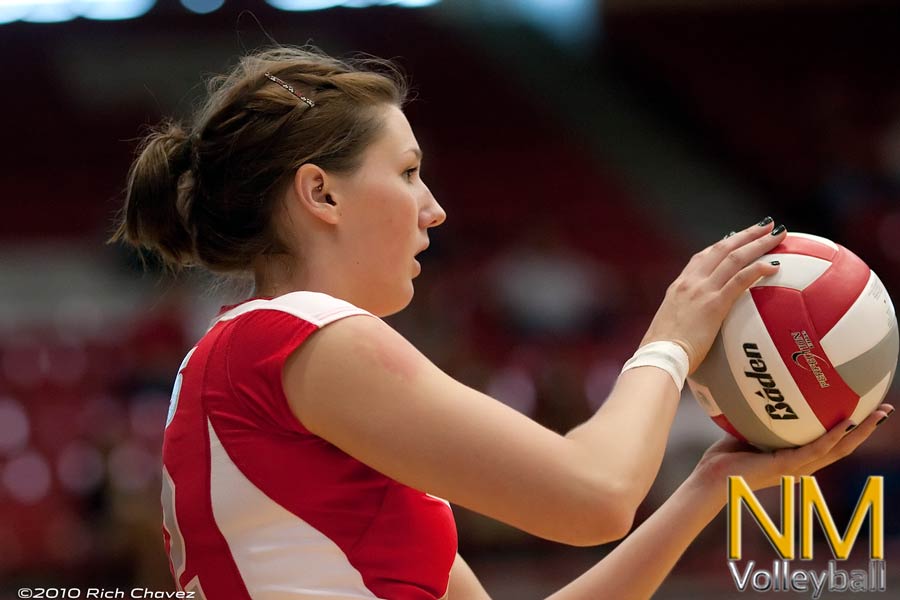 Written by UNM Media Relations
Albuquerque, N.M. — The University of New Mexico volleyball team is pretty tough to beat when they are on their game. That was most certainly the case on Saturday afternoon as the Lobos rode a superb hitting game to take down the UNLV Rebels in three straight 25-19, 25-12, 25-1. The win was New Mexico's sixth in the last seven matches, and the Lobos improved to 10-6 overall and 2-1 in the Mountain West as they head on the road for three straight conference matches.
The Lobos weren't overly challenged in the first two sets, racing out to a quick 2-0 lead as they never trailed in the opening two. The Lobos used solid hitting, going .270 and .241 in the opening two sets, while UNLV struggled, hitting exactly .000 with 17 kills and 17 errors through two. New Mexico's defense contributed to UNLV's troubles with 11.5 blocks on the afternoon.
Game three was a different story as UNLV battled back after the 10-minute break to take their first lead at 4-3, and eventually led 17-15 before Ashley Rhodes knocked down one of her 10 kills on the afternoon, and then Taylor Hadfield served two straight points to make it 18-17. After an error tied it at 18, setter Jade Michaelsen recorded the last of her five kills for the lead that New Mexico would never relinquish. Michaelsen gave UNM some breathing room with an ace, and then Lisa Meeter recorded kills on three of the final four plays to end it in UNM favor.
A milestone was reached in set two when Lisa Meeter served back-to-back aces, the first of which made her the ninth Lobo to ever record 100 aces in a career. She needs just 19 kills and 25 digs to reach the 1,000 mark in both of those categories. That would make her just the third Lobo to hit all three of those markers in a career.
The win puts the Lobos no worse than tied for third after the weekend as the team heads on the road for three straight, starting next week with a single match against TCU on Friday at 6 p.m.
NOTES: The Lobos hit .263 on the day … Ashley Rhodes over the past two games recorded 24 kills to just two errors … Jade Michaelsen …Mariah Agre recorded a pair of aces in her only set of action … Taylor Hadfield had six blocks … four Lobos, Hadfield, Kelly Williamson, Rhodes, and Meeter, all recorded at least 10 points in the match.