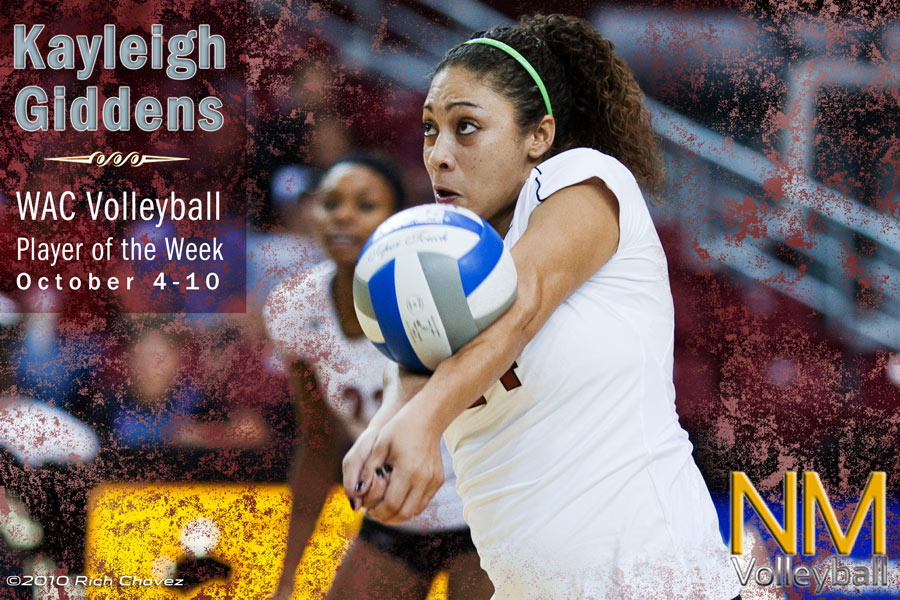 DENVER – Senior outside hitter Kayleigh Giddens has been named Western Athletic Conference Volleyball Player of the Week for the week of Oct. 4-10. This is the second WAC Player of the Week honor of the season for Giddens and the fourth of her career.
The Lubbock, Texas, native led the Aggies to road wins at San Jose State and Fresno State. She hit .357 with 6.43 kills, 3.00 digs, 0.57 service aces and 7.50 points per set.
"We had a good week on the road and our team played well against two pretty good teams," Giddens said.  "I am happy to receive the honor and I hope we can continue to play well."
After posting two consecutive 20-plus kill matches, senior Kayliegh Giddens leads the Western Athletic Conference in kills per set at 4.91, while she is also in the top 10 nationally for kills per set.
Against the Spartans, she tallied 20 kills, seven digs and two service aces. Giddens followed it up with her WAC-leading eighth double-double of the season at Fresno State, tying her career high with 25 kills and 14 digs. She also added four blocks and two service aces. The last time she tallied 25 kills was against Idaho, Nov. 7, 2009.
The New Mexico State volleyball team returns to the Pan American Center with three matches in four days. The Aggies take on Boise State, Thursday, Oct. 14 at 7 p.m. before meeting Idaho, Saturday, Oct. 16 at 7 p.m. NM State finishes the week with a match against WAC foe Nevada, Sunday, Oct. 17 at 7 p.m. The matches against the Broncos and the Wolf Pack are on AggieVision and can be seen on Comcast throughout the state of New Mexico. Saturday's match can be heard on KSNM 570 AM with Kyle Doperalski.