In their second year in existence, the Storm collected the first District Championship in the school's history by defeating the defending state champs , Rio Rancho, the fourth time in four tries this year.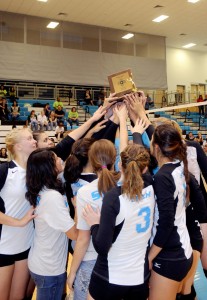 Marissa Calvillo led the way with 16 kills and 17 digs and was BIG all night. Courtney Lawson chipped in with 15 and 12 digs. Jordan Bruere had 51 assists, 6 kills, 4.5 Blocks, and 13 digs. Sara Hattis was unstoppable at times and had 14 kills and 11, yes 11, blocks. 8 solo blocks.
Jayla Trombley and Mackenzie Clark were up to their usual great play and were tough to defend all night both chipping in with double digit kills as well as Morgan Godbolt on the right giving the Storm trouble for 5 games. The Storm (20-1) will try and defend their #1 seed starting this Thursday at the Star Center.