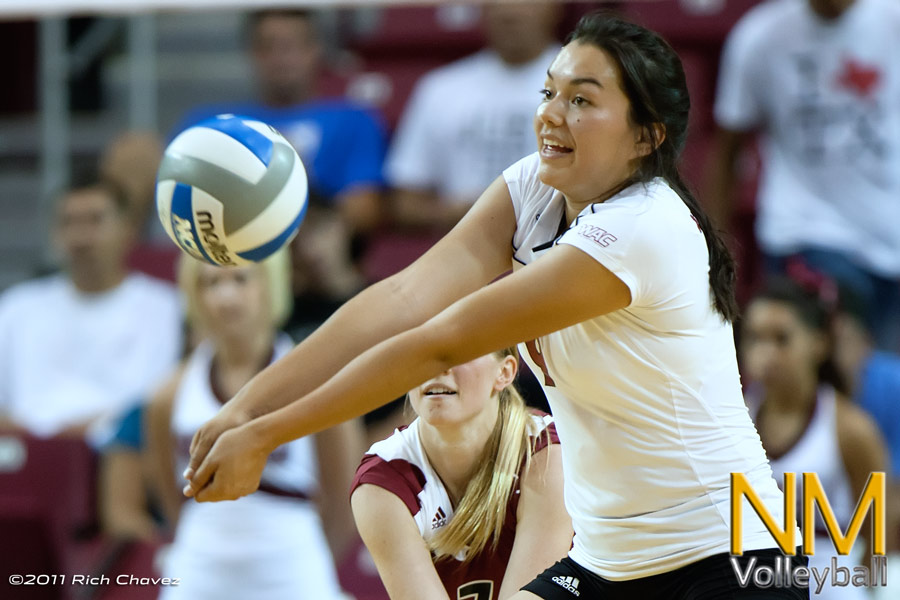 Courtesy NM State Sports Information
ALBUQUERQUE – The New Mexico State volleyball came out firing against No. 5 Nebraska taking the first two sets, but the Cornhuskers bounced back to defeat the Aggies 3-2 (25-20, 26-24, 13-25, 12-25, 8-15).
NM State outhit the Huskers in set one and two, but defensive adjustments after the intermission slowed down the Aggie offense.  Freshman outside hitter Meredith Hays tallied a match-high 18 kills, while Morgan Broekhuis of Nebraska also marked 18 kills on the evening.
"We handled the ball pretty well and we played really good defense," head coach Mike Jordan said. "We did the things we needed to do to stay in it but you have to give credit to Nebraska for coming back and playing well at the right times."
Senior libero Kelsi Phillips marked a career-high 27 digs while adding seven assists as senior setter Jennah DeVries tallied her first double-double of the year with 40 assists and 17 digs. Senior middle Kelsey Brennan was the only other Aggie with double-digit kill figures as she marked 10 on the night with a .263 hitting percentage. Sophomore outside hitter Deirdre Pajares marked a team-high .333 hitting percentage with five kills on 12 attempts and committed only one error. Freshman Bradley Nash had eight kills in the match before getting injured in set No. 3.
"Bradley (Nash) getting hurt kind of took the wind out of us," Jordan said. "Meredith (Hays) played a good match for us and our senior leaders also did well.  I saw a lot of positive things on the court and am expecting good things ahead."
NM State marked only two errors as a team in set one compared to 12 errors and one service error by Nebraska which lead to a 25-20 win. Set two saw the Aggies catch fire offensively with 20 kills, while the fifth ranked team in the nation marked only 15.
The Cornhuskers came out of the intermission on fire and marked a .556 hitting percentage and tallied only four errors in the final two sets of play as NM State could not get above a .100 hitting percentage in the last three sets of the match.
NM State now looks forward to a match with South Florida, Saturday, Aug. 27 at 5pm (MT). Fans can catch the action live on the radio in Las Cruces on KSNM AM 570 with Kyle Doperalski giving the play-by-play action.