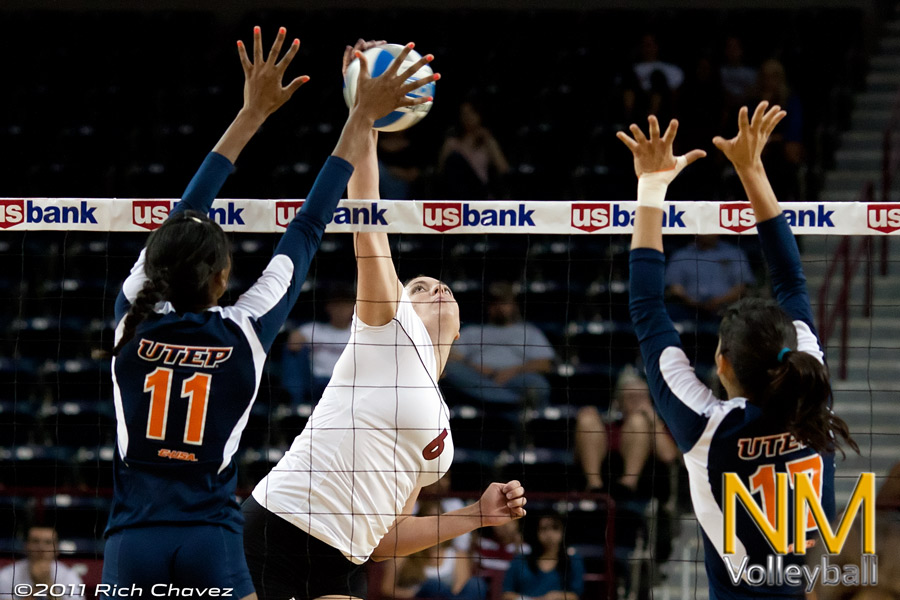 EVANSTON, Ill. – The New Mexico State volleyball team defeated Colgate 3-1 (25-23, 25-21, 22-25, 25-21) in the first match of the Wildcat Classic, Friday, Sept. 16 in Ryan Welsh Center in Evanston, Ill., to pick up its 10th victory of the year.
NM State goes to 10-2 on the year and was led by freshman Meredith Hays who tallied her fifth double-double of the year with 21 kills and 15 digs. The 21 kills matches her career-high and the 15 digs is the second most of her young career.
"You give credit to Colgate for playing the way they did today," head coach Mike Jordan said. "They couldn't stop our middles today, and I am happy with that because we have been working hard at it."
Sophomore middle hitter Desiree Scott marked 12 kills with a .333 hitting percentage and senior middle hitter Kelsey Brennan added nine kills with a .353 hitting percentage. Senior middle hitter Michelle Kuester tallied eight kills while hitting .312 on the afternoon.
Senior setter Jennah DeVries posted 52 assists, six kills and five digs, while senior libero Kelsi Phillips marked a match-high 18 digs to go along with three assists. Senior Brynja Rodgers added 13 digs and two assists, while freshman Gwen Murphy finished the afternoon with five kills.
The Aggies never trailed in set one taking a lead as big as seven at 16-9, but Colgate pulled to within one at end of the set at 23-22. A kill by Hays gave NM State two set points at 24-22. A kill by a Raiders' attacker took the set to 24-23, but Hays closed it out with her seventh kill of the match to give NM State a 25-23 victory.
Colgate led for the first time in the match at 5-4 in set No. 2. There would be nine ties after that with the last one coming at 14-all. The Aggies hammered three consecutive kills to take a 17-14 lead. After going back-and-forth, Brennan hammered down a kill on a sliding-pin play to give her team a 23-19 lead. NM State held off the Raiders to get the 25-21 win.
NM State fell 25-22 in set No. 3 after falling behind by five at 11-6. The Aggies tried to fight back but Colgate pulled away and took a seven point lead at 14-7 after a kill by the Raiders' kill leader Lindsay Young. After a Colgate service error that made the score 21-19, the Aggies continued to fight and pulled to within two at 24-22. However, the Raiders pulled off the win on a kill by Mari Faines.
The Aggies took an eight point lead after rattling off four consecutive points to go up 16-8 in set No. 4. NM State allowed a five point Raider scoring rally late in the set, which took the score 24-21. The Aggies had six match points and eventually ended the match on a Desiree Scott kill. NM State won the set 25-21 and go to 10-2 on the year.
NM State plays two matches on Saturday, Sept. 17 with the first match at 10am (MT) against Duquesne. There is a tape delay for that match at 12pm (MT) on KSNM AM 570 with Kyle Doperalski giving the play-by-play action.