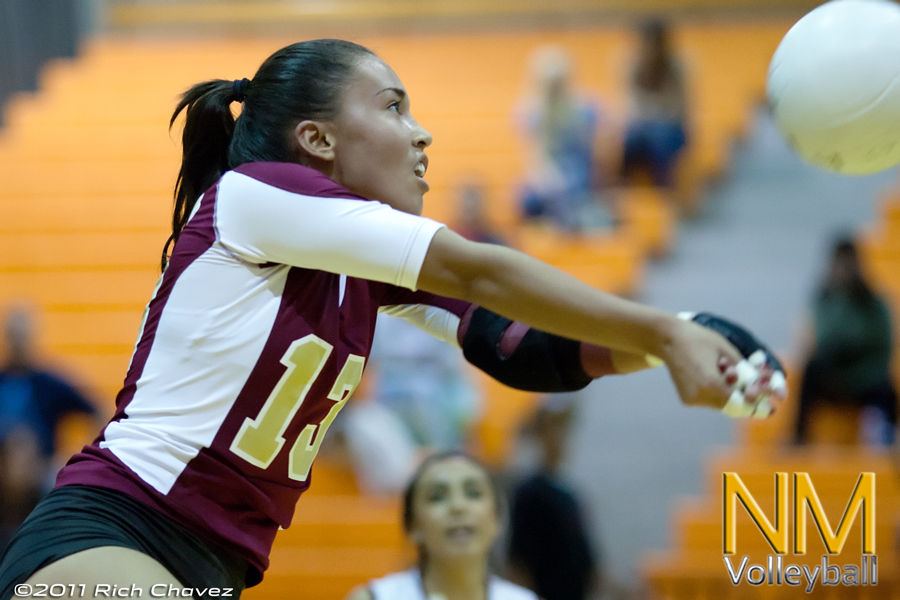 She's Back
Nathalie Castellanos made her return last night against the Oñate Knights, just in time for district play. With 21 kills and six blocks on the night, Castellanos, while not at top form, brings a confidence to the Panthers that will serve them well the rest of the season.
Read more in the Las Cruces Sun-News.
Elkettes wait
What will the Elkettes do in their 11 day layoff after clinching the District 5-3A regular season title? Practice and get even better.
Read about the Elkettes in the Santa Fe New Mexican
Tonight's Games
| | |
| --- | --- |
| 05:30 AM | Monte del Sol at Penasco High School |
| 05:01 PM | Dulce High School at Cuba High School |
| 05:30 PM | Santa Fe Prep vs. Pecos High School |
| 06:30 PM | Los Alamos High School at Capital High School |
| 06:30 PM | Bernalillo High School vs. Santa Fe High School |
| 07:00 PM | SFP vs Pecos |
Scores from last night
Rio Rancho 3, Cibola 2 (25-18, 25-8, 14-25, 22-25, 15-7)
Abq Academy 3, Atrisco Heritage 0 (25-8, 25-10, 25-13)
Gadsden 3, Oñate 1 (25-17, 21-25, 25-20, 25-9)
Los Lunas 3, Miyamura 0 (25-2, 25-13, 25-21)
La Cueva 3, Eldorado 1 (25-10, 25-18, 23-25, 25-21)
Hope Christian 3, Santa Fe Indian 2 (25-16, 24-26, 22-25, 25-10, 15-8)
Sandia 3, Manzano 0 (25-16, 25-15, 26-24)
Valley 3, Rio Grande 0 (25-8, 25-15, 25-16)
Abq High 3, West Mesa (23-25, 25-12, 25-19, 25-16)
Pojoaque 3, Sandia Prep 0 (25-17, 25-13, 25-19)
St. Pius 3, Moriarty 1 (25-16, 25-22, 23-25, 25-17)
Texico 3, Estancia 0
Lordsburg 3, Mesilla Valley Christian 1
Las Cruces 3, Alamogordo 2
Piedra Vista 3, Bloomfield 0
Gallup 3, Grants 1
Eunice 3, Dexter 1
East Mountain 3, Evangel Christian 2
Portales 3, Lovington 1