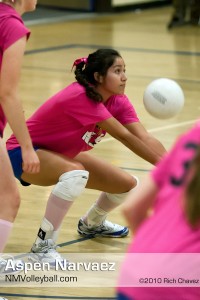 Congrats to Mesilla Valley Christian's Aspen Narvaez for signing with Adams State.
Narvaez was a four-year varsity letter winner with the SonBlazers and saw her fair share of the action during the SonBlazer's run for the state title in 2008.
Her awards include All-District Team selection and the Las Cruces Bulletin Player of the Week. Academically, Narvaez carried a 4.0 and earned  the NHS Who's Who All American Scholar Top 10% of Class. Narvaez has spent her club career with the Diamondbacks, most recently on the 18 Rosen team on what is now the Diamondbacks/Wildfire club.
Adams State, in Alamosa, Colorado finished 19-9, going 12-6 in conference play in the 2011 campaign and advanced to the RMAC quarterfinals, where they defeated Colordao State-Pueblo and lost to Nebraska-Kearney.
Good luck, Aspen.