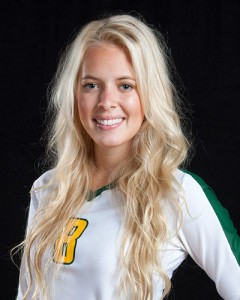 Congrats to Kat Romanelli for recently signing her NLI to play for Davidson College.
Davidson, a D1 school located in Davidson, North Carolina, is  liberal arts school that plays in the Southern Conference. Coached by Chris Willis, the Wildcats had a 16-14 (7-9) record in the 2013 campaign.
Davidson may sound familiar to local fans of prep volleyball–former Coronado and Wildfire standout, Caroline Brown finished her collegiate career this season playing for the Wildcats.
Good luck, Kat!
Courtesy of the Las Cruces Sun-News
LAS CRUCES – A setter with size can be a commodity on the volleyball court, and in the case of Kat Romanelli it helped grant the Mayfield High School senior a Division-I college scholarship for the years to come.

On Wednesday, Romanelli was joined by family and friends at the Mayfield school library, where she signed a National Letter of Intent with Davidson College. Davidson is located in North Carolina, about 30 minutes north of Charlotte.

"I think that helped a lot," Trojans head coach Mike Sautter said of Romanelli's tall stature. "And I wouldn't be a bit surprised if she finds herself hitting somewhere down the road."

He added, "She can go up and get balls. Everything that's right at the net, my little setter can't get. But (Romanelli) can go up and get it."

Romanelli, who said she stands at 6-foot-1 on the volleyball court, agreed her height helped net a Division I scholarships.

"It makes me a more physical player. I can be offensive, I can jump and get a lot of kills," she said. "I can also play all the way around. Most setters will just stay in the back row if they're small. But I'll be able to play the front row, because I'm tall, and I can block….You can stay in the whole time, which helps with the team's consistency in the offense."

Romanelli played the setter position the past three years for the Trojans. She not only ran Mayfield's offense as an athletic and smart player, but also was a team leader.

"She understood the game well," Sautter said. "And she's a highly-competitive kid. It's good to have somebody running the show that's a competitive person. That really helped out."

The Trojans had somewhat of a veteran core this past season with four seniors on the roster: Romanelli, Caitlyn Madrid, Clara Salopek and Allie Pierce.

With that, Mayfield didn't have a strong regular-season, getting into the State Championships as a No. 11 seed in the 12-team bracket.

But the Trojans got hot at the right time, playing well in pool play before defeating No. 9 Cleveland in the first round 3-1, then No. 12 Volcano Vista in the quarterfinals 3-2. Mayfield would eventually fall in the semifinals round to No. 1-ranked Sandia – the eventual state champions – by a final score of 3-1.

Romanelli said this year's Trojans team had good chemistry, which was key in their late-season success.

"That helped us out a lot," she said. "We didn't think we'd get into state. We weren't even sure we were going….And then we got there, and we all just went in with this attitude: we're going to have fun, see where it takes us, we're going to work very hard and do our best."

On the college level, Romanelli – who also had nine years experience playing club volleyball – said she'll have to adjust to the daily competition, as well as the speed of the game. She said she wanted to leave the region for her college experience, and attending a university with a strong academic background and good volleyball program was top priority during the recruiting process.

Her father, Daniel, added that his daughter holds a 3.95 GPA at Mayfield.

"I'm going to miss her tremendously. She's been one of these kids that's always been very independent. A kid that's always known what she's wanted from the get go," Daniel said. "She's someone who I think will do well, of course. I'm going to try to get to as many games as possible."