Fo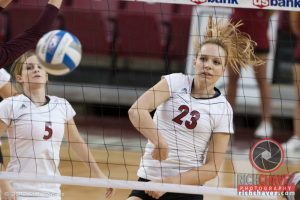 rmer NM State standout Gwen Murphy was named the 2015-16 Western Athletic Conference Joe Kearney Award winner, the conference announced on Wednesday. Named in honor of former WAC commissioner Joe Kearney, the award is given annually to the top male and female student-athletes in the WAC.
"Gwen was the WAC Player of the Year and an All-American, but her statistics are even more impressive when you look at what she did in our non-conference schedule against nationally-ranked competition," head coach Mike Jordan said. "She was dominant in matches against Texas, Arizona and Arizona State, among others. We have had quite a few great players here and I believe Gwen had the best season in NM State history. She was a great competitor and a tremendous leader."
The 2015 WAC Player of the Year, Murphy was named an American Volleyball Coaches Association Honorable Mention All-American, and was just the seventh player in school history to receive this honor. Murphy was also named AVCA First Team All-Region, First Team All-WAC, MVP of the 2015 WAC Tournament and was a three-time WAC Player of the Week honoree. Additionally, she was also named the Sports Import/AVCA Division I National Player of the Week for Aug. 24-30, becoming the first player in school history to earn this honor.
A native of Elfrida, Ariz., Murphy had four matches during the 2015 season without any hitting errors, including a sweep of Robert Morris when she finished with a WAC and school record breaking hitting percentage of .933. She finished her senior campaign with a .421 hitting percentage, good for 10th nationally and broke the school record set in 2006.
In her time at NM State, the Aggies captured two regular-season conference titles (2013, 2015) and three WAC Tournament titles (2012, 2013, 2015). Murphy leaves her mark on the Aggie record book with a school record 136 matches played and 472 sets played.