Las Cruces falls to Centennial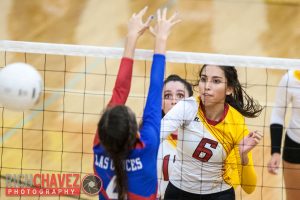 Las Cruces visited Centennial Tuesday night, kicking off the first of two regular-season district games. Having already met in the Jane Leupold Sweet Sixteen tournament final, these two teams have become familiar foes.
The Hawks (11-1 overall) swept the Bulldawgs, 21, 23 and 20.
The Bulldawgs did not go down without a fight. In both the first and second sets, Las Cruces led the Hawks, but issues with serve-receive and strong play from Centennial's front line quelled any comeback hopes.
"We're limited; we need some people to step up," said head coach Al Rosen of the Hawks' performance. "I thought the freshmen did a good job and got us some kills when we needed it."
The two teams will meet again on October 21st to finish up district play, and more than likely face each other for the district tournament championship.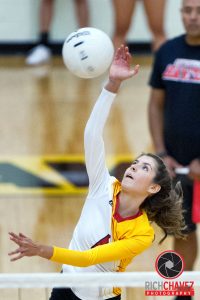 "I think we're the top two teams in the district (Las Cruces). The way things are shaping up, it's possibly them in the (district) final again," said Rosen.
With some of the powerhouses in Albuquerque, the way Rosen sees it, there's good reason to be concerned beyond district play.
"Looking at the long run, there are good teams up north. We need to get better; we're not good enough yet. "
Centennial will host a non-district game to Deming on Saturday and play at Onate on Tuesday, October 3. Las Cruces hosts Oñate at noon on Saturday, September 30.