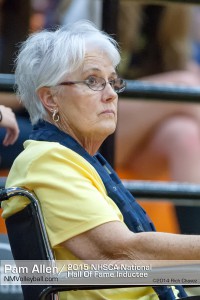 Congratulations to Pam Allen for recently being inducted into the New Mexico Sports Hall of Fame.
Coach Allen has a rich history in volleyball and other sports in the Land of Enchantment. She started her famed career in 1969, and has had coaching stints in Dexter, Goddard, Hobbs, Capitan, and most recently, Ruidoso.
No stranger to success, Coach Allen has consistently achieved excellence at all levels of competition. She has earned state championships with Goddard (1980/Class 4A), Capitan (1988/Class A), and Ruidoso (2014/Class 4A). She's coached several runner-ups as well: Carizzozo (2011, 2012 & 2013/Class B), Roy (1993/Class A), Dora (1991/Class A), and Capitan (1990/A).
With all the accolades she's received, her most important contribution, in my opinion, was her involvement in writing and pushing the proposal that resulted in allowing girls to compete in extra-curricular athletics. Her proposal, co-written with Dexter principal Jimmy Derrick, was presented to the State Board of Education and resulted in the first state championships with girls participating in volleyball, basketball, and track in 1972-1973.
This makes her not only a sports hero but a state treasure!