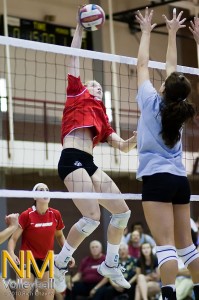 The Mountain West Conference has released their 2010 television schedule, and the University of New Mexico Lobos show up three times; Oct 31 @ Air Force, Nov 11 hosting Colorado State and Nov 18 @ Utah.
Expectations are high this season for the Lobos after a successful 2009 campaign, which included an appearance in the NCAA tournament.
Written by UNM Media Relations
ALBUQUERQUE, N.M. — The University of New Mexico volleyball team will be one of the feature teams in three national television matches during the 2010 season. UNM will host one televised Mountain West Conference match and will be the guest for two MWC television match-ups.

The Lobos will make their first 2010 television appearance on Sunday, Oct. 31 at Air Force. The match will appear on CBS College Sports Network (CBS C) at 4 p.m.

Two weeks later the Johnson Center will be the site of UNM's first of two appearances on The Mountain West Sports Network (The Mtn.). The Rams of Colorado State will be the opponent on Thursday, Nov. 11 at 7:30 p.m.

UNM will wrap up the MWC television broadcast schedule when it plays Utah for the final time as conference foes on Thursday, Nov. 18 at 7:30 p.m. on The Mtn.

"We are excited about the opportunity to play in front of a national television audience several times this season," said Lobo head coach Jeff Nelson. "Having our home match against Colorado State televised will be a great chance to showcase the great volleyball fans we have in Albuquerque. The coverage by The Mtn. and other networks is great for our sport, our program and the conference."

The Mountain West Conference released the 2010 volleyball television schedule today with 19 matches airing on National Television. The Mtn. – MountainWest Sports Network will broadcast 11 matches, while three will air on CBS College Sports Network. The other five matches will be broadcast on BYU-TV with replays on The Mtn.