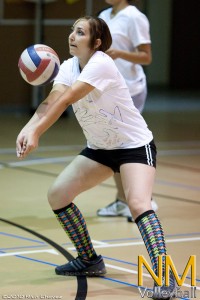 Check back in the next few days for my interview with La Cueva's monster outside hitter, Julia Warren.
LC schools begin play
There is a Sun-News article on the various volleyball teams opening play tonight against the El Paso schools. Mike Sautter, head coach at Mayfield, talks about the purpose of opening against El Paso schools. Mayfield hosts Americas, Cruces travels to Franklin and Oñate is at Hanks–looks like it might be a tough night.
Read about prep sports opening up
Lobos talk about notches
Riding hot on the heels of a very successful 2009 season, the Lobos look to fire up their performance "3 notches" this season. With a schedule that's difficult at best, the UNM squad thinks they're up to the task—I think they may be right.
Read about the motivated Lobos at GoLobos.com.
Grants working hard in the off season
Going 3-14 (0-7) last season the Pirates now have a junior and senior-heavy squad and worked hard in the off season. Good luck Pirates, and give it your all.
Read about the Grants off season efforts in the Cibola Beacon
Daily Dig Player of the Day
"What's with the pictures of random players on these articles?" you ask? I pick a NM or El Paso player to feature on the Daily Dig articles to recognize their hard work and commitment to the game; they deserve it.
Have a story you'd like to share? Send it my way, and I'll include it in the Daily Dig.