Lobo Volleyball Picked 4th In MWC Preseason Poll; Receive Votes in AVCA National Poll
Senior captain Jade Michaelsen named to MWC Preseason Team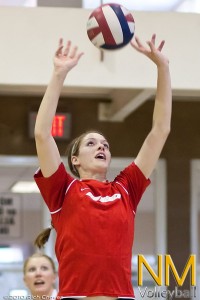 ALBUQUERQUE, N.M. — The University of New Mexico volleyball team has been picked fourth in the 2010 Mountain West Conference Preseason Volleyball Poll.  Senior team captain Jade Michaelsen was named to the MWC Preseason Team for the second season in a row.  Colorado State and MWC Preseason Player of the Year Danielle Minch were picked to win the league title in 2010.  The Rams earned 134 points and 15 of the 16 first-place votes.
UNM also received votes in the 2010 American Volleyball Coaches Association National Preseason Poll released this afternoon.  The Lobos picked up 15 points.
UNM earned 96 points from the voting panel of coaches, SIDs and selected media, just eight points from second place.  Utah, in their final season in the MWC, was picked second with 104 points, followed by TCU in third with 99 points.  BYU was picked fifth with 85 points and one first-place vote while San Diego State was selected sixth.  Wyoming, UNLV and Air Force round out the poll in seventh, eighth and ninth.
Michaelsen, a two-time All-MWC setter, joins six others on the preseason team.  Michaelsen is closing in on the UNM all-time career assists record.  In three seasons as the Lobos' starting setter, Michaelsen has accumulated 3,087 assists and needs 708 assists to pass up Janelle Torres (3,794; 1996-99).
The Lobos will host an Alumni match on Saturday, Aug. 21 at 7 p.m. at the Johnson Center.  Lobo head coach Jeff Nelson will host a courtside season preview chat following the match between the alumni and the 2010 Lobos.  Regular season action begins on Friday, Aug. 27 against Pepperdine at 7:30 p.m. in the first round of the MCM Elegante Lobo Classic.  UNM will host Tulane on Aug. 28 at 2 p.m. in the second round and No. 4-ranked Stanford on Aug. 29 at 2 p.m. in the final match of the tournament.
2010 MWC Preseason Volleyball Coaches Poll
| Rank | Team | Points |
| --- | --- | --- |
| 1. | Colorado State | 134 (15) |
| 2. | Utah | 104 |
| 3. | TCU | 99 |
| 4. | New Mexico | 96 |
| 5. | BYU | 85 (1) |
| 6. | San Diego State | 62 |
| 7. | Wyoming | 43 |
| 8. | UNLV | 36 |
| 9. | Air Force | 16 |
2010 MWC Preseason Team
| Player | Position | Class | Team |
| --- | --- | --- | --- |
| Danielle Minch | OH | Sr. | Colorado State |
| Jade Michaelsen | S | Sr. | New Mexico |
| Lauren Salisbury | MB | Sr. | San Diego State |
| Karolina Bartkowiak | OPP | Sr. | Utah |
| Jodi Purdy | OH | So. | Wyoming |
| Evan Sanders | S | Sr. | Colorado State |
| Keisha Fisher | L | Sr. | Utah |
Preseason Player of the Year: Danielle Minch, Colorado State