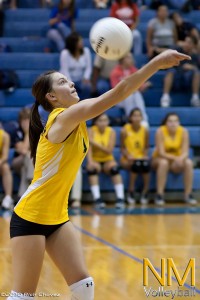 Cruces sweeps Ruidoso
In a show of dominance, the Bulldawgs swept Ruidoso, 25-21, 25-11, 25-17 Tuesday night in Las Cruces. The Bulldawgs were playing the 6-2 with much success–sophomore Lexi Dotson shared setter duties with Sarah Fountain. You might recall the Bulldawgs tried this last season with not-so-spectacular results.
It looks like the young offense is beginning to click. Read more about the Cruces win over Ruidoso in the Las Cruces Sun-News.
Cleveland over Los Alamos in three
The Storm swept Los Alamos Tuesday night, 25-17, 25-22, 25-18. Cassie House racked up three aces and seven kills, while Marissa Calvillo had 10 kills and two aces. Jordan Bruere had 29 assists on the night.
Cleveland travels to Las Cruces to take on the Oñate Knights this Saturday at 5:30 PM
Aggies head out for another tourney
Having just finished up their sweep of UTEP, the Aggies are back on the road for the LSU Tiger Classic. NMSU will face the likes of Rice, North Carolina and No. 21 ranked LSU. Read more about the Aggie's opponents at the NM State Sports site.
Valencia county teams hit the road, tough tournaments
Article discusses Valencia and Los Lunas' trials and tribulations at the Moriarty and Sweet 16 tournaments, respectively. Although I wouldn't call Alamogordo a "5A powerhouse" just yet (they're working hard), Los Lunas played tough–tough enough for Felicia Wortman to earn a spot on the Sweet 16 all-tournament team.
El Paso scores needed
I'm looking for scores from El Paso-area games from last night, especially the Montwood/Eastwood game. Amber, where are you?
Daily Dig Player of the Day
"What's with the pictures of random players on these articles?" you ask? I pick a NM or El Paso player to feature on the Daily Dig articles to recognize their hard work and commitment to the game; they deserve it.
Have a story you'd like to share? Send it my way, and I'll include it in the Daily Dig.