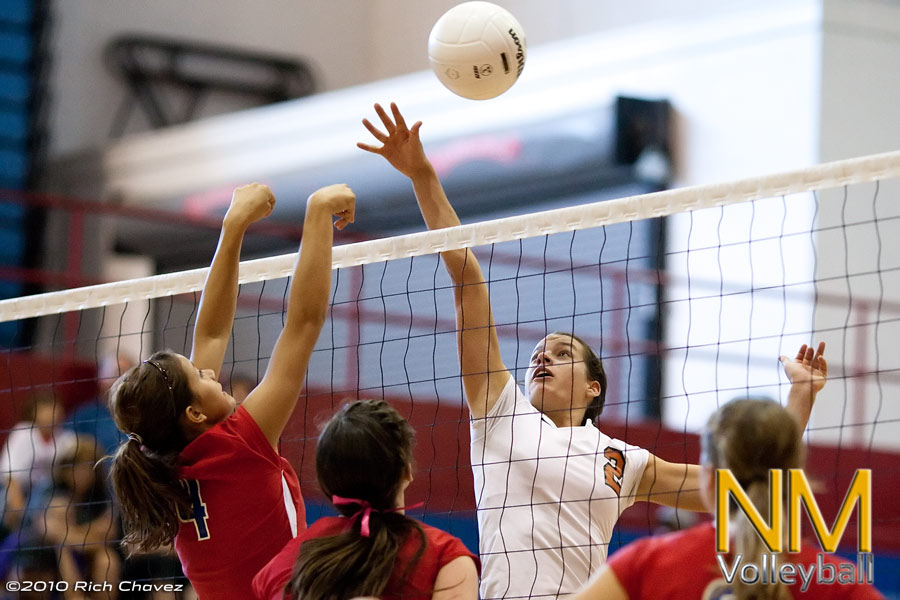 Gadsden sweeps Albuquerque
In game one of a north-south double header on Saturday afternoon at Las Cruces High, Gadsden swept the Albuquerque Bulldogs, 25-6, 25-6, 25-14.
Eldorado holds on to beat Las Cruces 3-1
After starting off the game looking a little shaky, especially on serve-receive, Eldo was able to get past a horrible first set and get a win against the Bulldawgs on Saturday afternoon, 15-25, 25-23, 25-23, 25-16.
Cleveland bounces Mayfield in 4
Cleveland beat Mayfield in four on Saturday,  25-19, 23-25, 25-15, 25-16 to advance to 8-1 on the season. Courtney Lawson had 11 kills and 1 ace. Marissa Calvillo had 9 kills and 4 aces and  Jordan Bruere had 35 assists. Sara Hattis had 12 kills and 5 blocks.  Cleveland faces Pojoaque on Tuesday evening in Santa Fe.
Tularosa: Queens of the Mountain
Tularosa swept the entire championship bracket, beating Capitan 25-18, 25-22, 25-19, Carrizozo 25-14, 25-8, 25-16, and Eunice 25-13, 25-16, 25-15 to win the Mountaintop Tournament this weekend in Cloudcroft, NM. With this performance, and the beat-down of Estancia in three last week, I think the Wildcats need to be ranked higher than they were last week…
Congrats to Hannah Syling, Ashley Porter, Dakota Rice and Kassandra Hardison for being named to the all-tournament team.
Read about Tulie's good weekend at the Alamogordo Daily News
Other scores from this weekend
Hope Christian over Ramah 3-1: 25-16, 16-15, 25-20, 25-19
Bosque over Estancia 3-1: 25-23, 25-18, 20-25, 25-13
Meet the Preps touches on Eastwood
Felix Chavez blogs about the Eastwood team.
http://elpasotimes.typepad.com/prepsports/2010/09/eastwood-volleyball-squad-.html