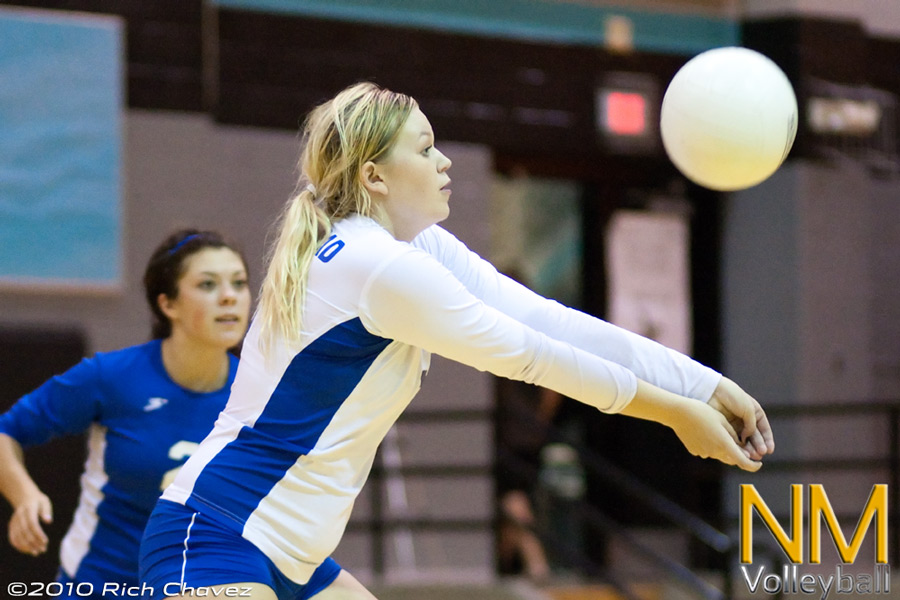 Scores from last night
Texico over Dexter: 3-0
Cibola beat Rio Grande: 2-0
Mountainair over To'Hajiilee: 3-0
Rio Rancho sweeps Artesia: 3-0 (25-17, 25-20, 25-13)
Abq Academy over Sandia: 3-2 (25-12, 18-25, 16-25, 25-17, 15-13)
Menaul sweeps Deseert Academy: 3-0 (25-20, 27-25, 25-14)
Eunice over Hagerman: 3-0
Aggies win
Written by the Aggie Media Relation department:
RUSTON, La. (Sept. 23)-The New Mexico State volleyball team opened 2010 WAC play with a sweep at Louisiana Tech, 25-23, 25-20, 25-11.
The Aggies are now 7-7, 1-0 in the WAC while the Lady Techsters move to 9-6, 0-1 in the WAC. Senior outsider hitter Kayliegh Giddens tallied a match-high 24 kills while junior middle hitter Kelsey Brennan added eight kills.
"She (Giddens) was spectacular," head coach Mike Jordan said. "The problem is we're setting her too much. We don't want to make her carry that kind of load. When we were handling the ball well, we were siding out almost 1.000 percent. It was pretty impressive."
In the first set, the Aggies fought through a late surge from Louisiana Tech. With the game tied, 21-21, NM State controlled the set after kills from Brennan and freshman middle hitter Desiree Scott. Giddens ended the set with her 11th kill.
The Aggies erased a five-point deficit, 17-12, to take the second set with a 13-3 run that included a pair of vital blocks from junior setter Jennah DeVries and Brennan. NM State posted a 4-1 advantage in blocks. Offensively, senior outside hitter Whitney Woods and Giddens paced the Aggies with four kills each.
NM State owned the third set and with the game tied 5-5, the Aggies sealed the victory with a 20-6 advantage. The Aggies posted a .483 hitting percentage in the final set.
The Aggies return to Las Cruces to host the Lady Techsters, Saturday, Sept. 25 at 7 p.m. in the WAC home opener.
Lobos lose to San Diego State
Written by the UNM Media Relations Department
San Diego State Races Past Lobos In Conference Opener 3-0
Lobos drop conference opener for eighth consecutive year
San Diego, Calif. — Sitting pretty with two set points to open the match against San Diego State, New Mexico couldn't put away, and the Lobos let their Mountain West Conference opener slip through their grasp.  The Aztecs scored a mild upset, taking down the Lobos 26-24, 25-22, 25-12, marking the eighth consecutive season that the Lobos have dropped their conference opener.
The Lobos dropped their first two conference games last year but rebounded to finish 10-6.  They will once again have to bounce back from an opening defeat.  The Lobos had a chance in the opening set, one that saw both teams have sizable leads.  UNM had an early 10-7 lead, and the Aztecs (6-7, 1-0 MWC) held a 20-18 lead after an attack error by Jade Michaelson.
New Mexico (8-6, 0-1 MWC) however outscored SDSU 6-2, using a Lisa Meeter ace and a couple of errors to set up a pair of set points in the opener.  San Diego State answered with back-to-back kills by Andrea Hannasch, who would end up with a match-high 12 kills.  After Hannasch tied the opening set with her second kill of the series, she blocked Andrea Rhodes to give the Aztecs set point, and a Rhodes error put set one on the side of the Aztecs.
From there, San Diego State slowly pulled away, winning set two 25-22, and set three 25-12.  In the second, San Diego State never trailed after UNM tied the game at four all after a Kelly Williamson kill.  New Mexico would never trail by more than three the rest of set two, but after tying it at 13-13, the Lobos couldn't take the lead.
In the third set, it was all Aztecs, as Johnna Fouch served San Diego State to a quick 7-0 lead, and New Mexico never threatened after that.  Fittingly, Hannasch ended it with a kill for match point.
For New Mexico, Lisa Meeter led the way with 10 kills, but she was the only Lobo in double figures.  Allison Buck added nine digs.  Jade Michaelson had 16 assists.  For the Aztecs, Hannasch led everyone with 12 kills, and Kristi Jackels was tough defensively with 14 digs.  Johnna Fouch was stellar with 35 assists.
The Lobos now have a week to prep for their conference home opener as they host Air Force on Thursday at 7 p.m. at the Johnson Center, before hosting UNLV on Saturday at 1 p.m.
NOTES:  The last time the Lobos won a conference opener was in 2002 when they defeated Air Force on Sept. 28. Ironically the Lobos would go just 3-11 that season in the Mountain West and win just four of their next 38 conference games … Jade Michaelson is now one block away from moving into the UNM top 10 … the Lobos dropped to 1-2 in road games this year.
Western Mustangs buck Highland Cowgirls
I thought I'd take a different approach when describing Western's win over Highland on Tuesday; "trample" doesn't seem very original. At any rate, Western won rather easily, 25-18, 25-15, 25-19, and improve to 3-1 in conference play. Read about the raucous fans and the Mustang win in the Silver City Sun-News.