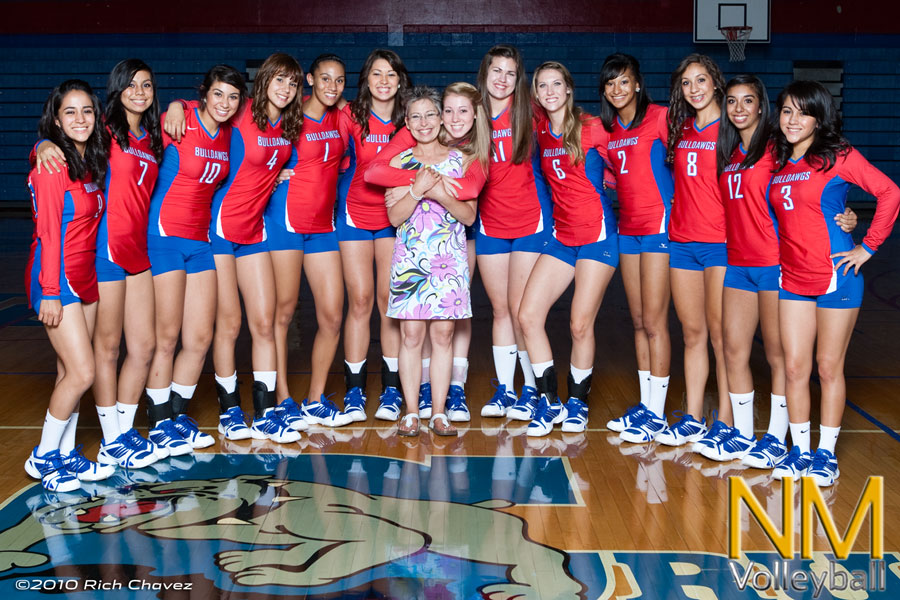 Leupold cancer free
Great story on Jane Leupold, wife of Las Cruces High coach Keith. As many know, Jane had been diagnosed with breast cancer two years ago. After an aggressive treatment on the cancer which had spread through her body, Jane has been diagnosed as cancer free. Sweet!
Jason Groves did a great job on this article. Read the story about Jane in the Sun-News.
Cruces and Mayfield
Speaking of Cruces, the Cruces-Mayfield rivalry heats up tonight, with two rather young teams facing off. That doesn't mean it won't be an exciting game. Look for a good battle with Cruces middle Maddie Byrd taking on Mayfield's Brazilian transfer Marcela Hanroit, who had a hot hand against Cibola on Saturday.
Another couple of players that should liven things up are Trojan hitter Callie Chambers and Bulldawg setter Sarah Fountain.
Read more about the continuing rivalry on the Las Cruces Sun-News website.
Artesia and Carlsbad
Now that the Cavegirls have had some time to journal, it's time to face the Artesia Bulldogs, who turned out some awfully good performances at the Rio Rancho Volleybash this past weeked. With hitters like Hannah Ballew and Jenna Elkins, Carlsbad's Sunnie Sutphin needs to live up to coach McKenzie's expectations.
Coronado and Franklin
Another great rivalry, this one in El Paso, that carries as much weight as Cruces/Mayfield. Both at 6-1, the winner stays close to District foe Eastwood.
Check out the article from the El Paso Times
Santa Fe area round-up
A good article with results from Santa Fe area teams.
Read it in the Santa Fe New Mexican
Results
Don't forget, if you've got results, stats or would like to share anything, drop me a line!
Tonight's Games
| | |
| --- | --- |
| 12:00 AM | Artesia High School vs. Carlsbad High School |
| 4:30 AM | Texico High School vs. Tucumcari High School |
| 5:00 AM | Walatowa Charter High School vs. Victory Christian School |
| 5:00 AM | Temple Baptist Academy vs. To'Hajiilee High School |
| 6:00 AM | Socorro High School vs. Hatch Valley High School |
| 6:30 AM | Hobbs High School vs. Roswell High School |
| 6:30 AM | Los Lunas High School vs. Belen High School |
| 6:30 AM | Roswell High School vs. Hobbs High School |
| 7:00 AM | Portales @ Goddard |
| 8:01 AM | Crownpoint High School vs. Shiprock High School |
| 10:54 AM | Escalante High School vs. Cuba High School |
| 1:11 PM | Albuquerque High School v. Highland High School |
| 02:09 PM | Hondo Valley High School vs. Mescalero Apache School |
| 4:00 PM | Hagerman High School vs. Tatum High School |
| 4:00 PM | NMMI |
| 4:00 PM | Elida High School vs. Grady High School |
| 4:00 PM | Clovis Christian @Logan |
| 4:00 PM | Lordsburg High School vs. Animas High School |
| 4:00 PM | Silver High School vs. Cobre High School |
| 4:30 PM | Cibola High School vs. Eldorado High School |
| 4:30 PM | Wingate High School vs. Tohatchi High School |
| 4:30 PM | Fort Sumner High School vs. Floyd High School |
| 5:00 PM | Thoreau High School vs. Newcomb High School |
| 5:00 PM | Menaul High School vs. Evangel Christian Academy |
| 5:00 PM | Gallup Catholic High School vs. Ramah High School |
| 5:00 PM | Dora vs. Jal |
| 5:00 PM | NMMI |
| 5:00 PM | Lordsburg High School vs. Animas High School |
| 5:00 PM | Mora High School vs. Santa Rosa High School |
| 5:30 PM | Sandia JV vs. St. Pius |
| 5:30 PM | Pecos High School vs. Penasco High School |
| 5:30 PM | Cibola High School vs. Eldorado High School |
| 6:00 PM | Gallup High School vs. Valencia High School |
| 6:00 PM | Valley Christian Academy vs. Gateway Christian High School |
| 6:00 PM | Cibola High School vs. Eldorado High School |
| 6:30 PM | Albuquerque Academy vs. Moriarty High School |
| 6:30 PM | Miyamura High School vs. Grants High School |
| 6:30 PM | Del Norte High School vs. Atrisco Heritage Academy |
| 6:30 PM | Dulce High School vs. Questa High School |
| 6:30 PM | Cleveland vs. La Cueva |
| 6:30 PM | Kirtland @ Bloomfield |
| 7:00 PM | Laguna Acoma High School vs. Bosque School |
| 7:00 PM | Dexter at Clovis JV |
| 7:00 PM | Sandia vs. St. Pius |
| 7:00 PM | Mayfield High School vs. Las Cruces High School |
| 7:00 PM | Alamogordo High School vs. Gadsden High School |
| 8:05 PM | Robertson High School vs. Clovis High School |
| 9:11 PM | Piedra Vista High School vs. Aztec High School |