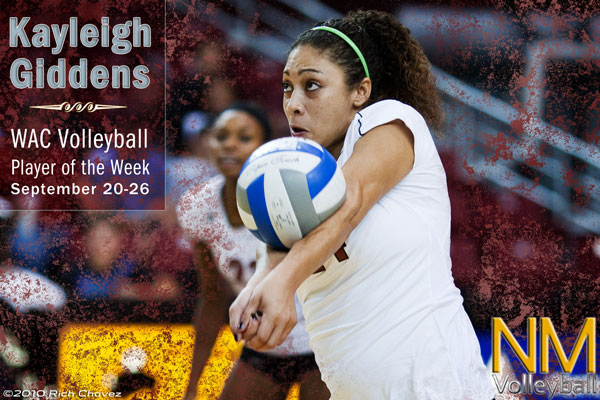 Written By: WAC Media Relations
DENVER, CO – New Mexico State senior outside hitter Kayleigh Giddens has been named Western Athletic Conference Volleyball Player of the Week for the week of Sept. 20-26. This is the first WAC Player of the Week honor of the season for Giddens and the third of her career.
The Lubbock, Texas, native led the Aggies to a pair of wins over Louisiana Tech to open WAC play. She hit .513 with 7.67 kills, 3.33 digs, 0.50 service aces and 8.42 points per set over the two matches. In the first match against the Lady Techsters, Giddens posted her WAC-leading seventh double-double of the season with a season-high 24 kills and 12 digs. She also added three blocks and a service ace. In the second match against LA Tech, she tallied 22 kills on a career-high .556 hitting to go with eight digs and two service aces.
Other nominees included: Alisha Young of Boise State averaged 2.6 kills on .315 hitting, 1.8 blocks and 0.4 service aces as the Broncos went 1-1 last week … Fresno State's Brianna Clarke averaged 3.88 kills on .387 hitting to go with 1.25 blocks last week … Chanteal Satele of Hawai`i averaged 3.83 kills on .390 hitting, 2.50 digs and 1.33 blocks per set as the Rainbow Wahine went 2-0 on the week … Idaho's Allison Walker had 16 kills on .308 hitting in the match at San Jose State last week … Kara Jones of Louisiana Tech averaged moved into third place all-time at LA Tech with 333 career blocks … San Jose State's Alex Akana averaged 2.50 kills on .310 hitting as the Spartans went 1-1 on the week … Liz McArthur of Utah State had 12 kills and 11 digs for her third-straight double-double in a loss at No. 5 Hawai`i.