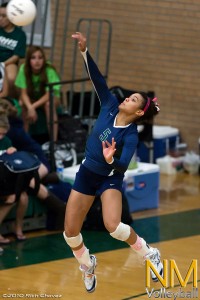 Hurd is the word
This article was published last week, and I overlooked it. As the article suggests, the longer the players spend in their natural positions, the stronger they'll get. Sarah is no exception; she gets some massive hits on the right side, and she's got a knack for finding open spots on the court.
Look for Hurd to keep improving her game Saturday in a grudge match against Mayfield.
Read the story about Sarah in the Las Cruces Sun-News.
El Paso Volleyball Stats
Meet the Preps/El Paso Times writer Felix Chavez reports on the El Paso-area players making names for themselves in the world of stats.
Some nice showings from Nikki Fults (Chapin), Cori Minjarez (Riverside) and Natalie Alvarado (Irvin).
Read about the top El Paso players, statistically, in Texas.
Rams shut down Trojans
Rio Rancho has been mentally tough throughout the season, and proved it once again on Saturday afternoon, with a 28-26, 25-14, 27-25 win at Mayfield.
With at least four or five shots for set point in sets one and three, I think Mayfield looked across the court and thought, "Hey, this is Rio Rancho!" and just let it fall apart. At Oñate on Tuesday night, expect the Trojans to come roaring back for this important district game.
Read about the Rio Rancho/Trojans match in the Las Cruces Sun-News.