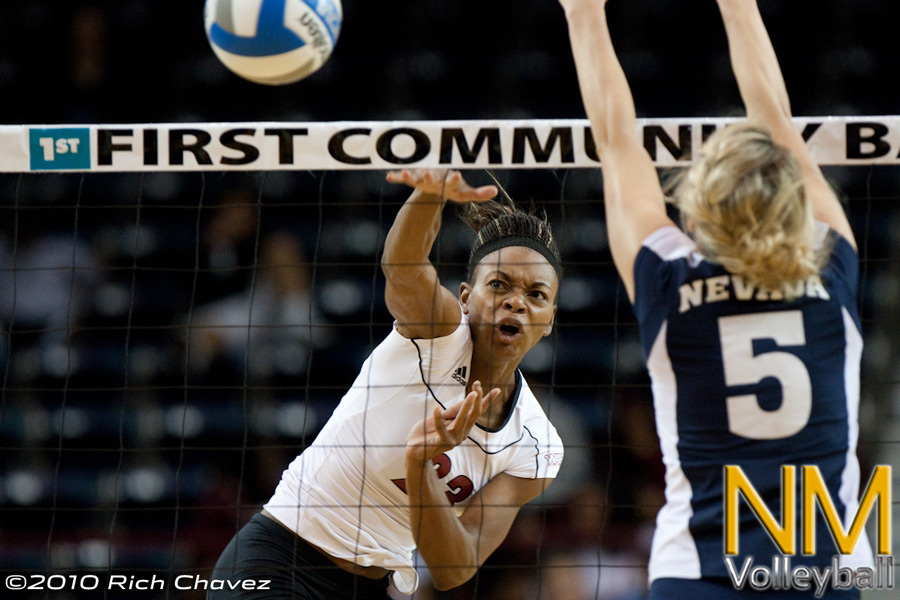 LAS CRUCES, N.M. – The New Mexico State volleyball team had to come-from-behind in every set but managed to sweep Nevada (28-26, 27-25, 25-20) in the Pan American Center, Sunday, Oct. 17.
The first set saw 17 ties and the Aggies were down late at 20-19 and 23-22 but two consecutive kills by freshman Rocio Gutierrez pushed NM State to a 28-26 win late in the set.  Gutierrez finished the night with 10 kills, while senior Kayleigh Giddens posted a match-high 17 kills.
Junior Kelsey Brennan, who finished the night with nine kills and a .429 hitting percentage, started the second set with a big kill but Nevada rallied to take a 7-3 lead. The Aggies rallied backed and tied it up at 24-24 on a kill by setter Jennah DeVries.  After an error by each team, Giddens slammed down two kills to put the set away at 27-25.
DeVries finished the night with three kills, 36 assists and nine digs, as junior libero Kelsi Phillips finished the evening with a match-high 12 digs.  She leads the team averaging 3.57 digs per set in Western Athletic Conference play.
The Aggies fell behind 7-3 and 12-9 in set three, but a .448 team-hitting percentage in the set gave NM State the momentum it needed to come back and win 25-20.  NM State tied the set up at 19 and took a 22-19 lead on three straight kills before taking its record to 7-1 in league play.
NM State is now 13-9 overall and heads to Reno, Nev. for a rematch against the Wolf Pack, Thursday, Oct. 21 at 8:00 p.m. (MT).