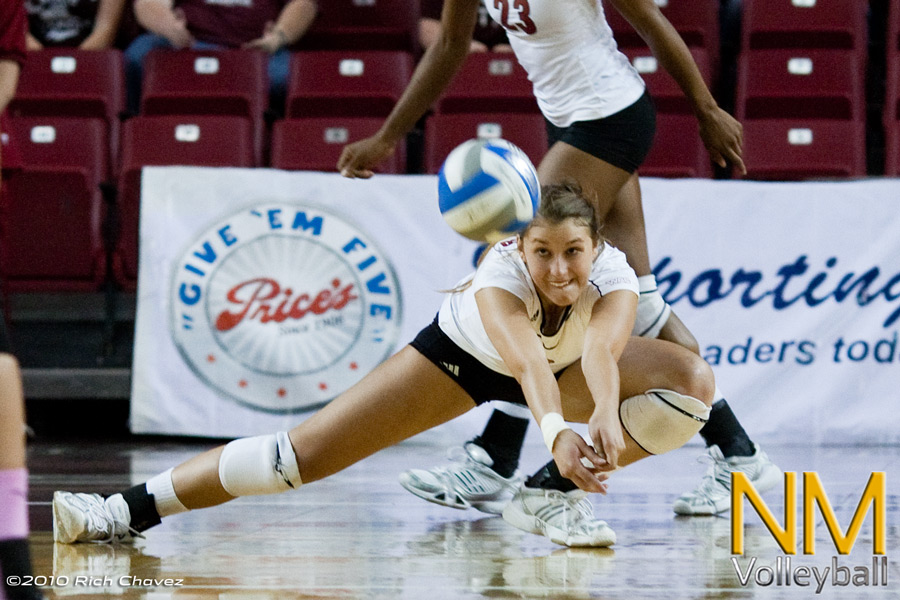 Sorry for the lack of updates, that thing called "work" gets in the way at times.
Victoria Foster commits
The El Paso Franklin and former Wildfire OH is aiming high. Foster has opted to go with the Air Force Academy next fall.
Congrats and good luck, Victoria!
Read about Foster's verbal commitment on Meet the Preps.
Two of El Paso's best set to clash
This monster match is happening tonight. While Franklin has the aforementioned Foster, Cassie Smith and lots of other talent on the team, Eastwood looks just a little bit better and more cohesive as a team. I like the Alysha Blanco, Madi Cera combo with a good helping of Heist.
Read about the match in the El Paso Times
Stories from last week
Tulie sweeps Cloudcroft
Tularosa is looking to make a steady march to Albuquerque and is destroying any competition that gets in their way. They did just that against Cloudcroft and expect the sting to be a little bit worse against arch rivals Mesilla Valley Christian.
Read about the Tularosa sweep in the Alamogordo Daily News
Mayfield sweeps Cruces
I think this surprised everyone…except the Trojans. With some solid talent in place, the Bulldawgs need to get their heads in the right place and be ready for whatever comes at them in the district tournament.
Read about the sweep in the Las Cruces Sun-News.
Tonight's Games
| | |
| --- | --- |
| 4:30 AM | Grady High School vs. San Jon High School |
| 5:00 AM | Shiprock Northwest vs. Tse Yi Gai High School |
| 5:30 AM | Temple Baptist Academy vs. Mountainair High School |
| 5:30 AM | Dora High School vs. Tatum High School |
| 6:00 AM | Silver High School vs. Hatch Valley High School |
| 6:30 AM | Gallup High School vs. Belen High School |
| 7:00 AM | Roswell High School vs. Goddard High School |
| 8:01 AM | Crownpoint High School vs. Zuni High School |
| 11:53 AM | Albuquerque High School vs. Valley High School |
| 12:06 PM | Albuquerque High School vs. Valley High School |
| 1:17 PM | Albuquerque High v. Valley High |
| 1:26 PM | Clovis High School vs. Carlsbad High School |
| 4:00 PM | Thoreau High School vs. Tohatchi High School |
| 4:00 PM | Carrizozo High School vs. Hondo Valley High School |
| 4:00 PM | Rehoboth High School vs. Navajo Prep High School |
| 4:00 PM | Cibola High School vs. Cleveland High School |
| 4:00 PM | Mesilla Valley Christian School vs. Tularosa High School |
| 4:30 PM | Reserve High School vs. Cibeque (Cibeque, AZ) |
| 4:30 PM | Clovis Christian vs Elida |
| 4:30 PM | Farmington High School vs. Piedra Vista High School |
| 4:30 PM | Santa Rosa at Tucumcari |
| 4:30 PM | Wingate High School vs. Shiprock High School |
| 5:00 PM | Menaul High School vs. Evangel Christian Academy |
| 5:00 PM | Lordsburg High School vs. Cloudcroft High School |
| 5:00 PM | Cibola High School vs. Cleveland High School |
| 5:00 PM | Lordsburg High School vs. Cloudcroft High School |
| 5:00 PM | Pine Hill vs. Ramah High School (girls Volleyball) |
| 5:00 PM | Estancia High School vs. Bosque School |
| 5:00 PM | Hagerman High School vs. Gateway Christian High School |
| 5:30 PM | Clovis High School vs. Carlsbad High School |
| 5:30 PM | Farmington High School vs. Piedra Vista High School |
| 5:30 PM | Rehoboth High School vs. Navajo Prep High School |
| 5:30 PM | Portales JV vs Ruidoso JV (Girls Volleyball) |
| 5:30 PM | Mescalero Apache School vs. Capitan High School |
| 5:30 PM | Sandia JV vs. Eldorado |
| 6:00 PM | Navajo Pine High School vs. Newcomb High School |
| 6:00 PM | Santa Teresa High School vs. Chaparral High School |
| 6:00 PM | Navajo Prep High School vs. Rehoboth High School |
| 6:00 PM | Lake Arthur High School vs. Valley Christian Academy |
| 6:00 PM | Cibola High School vs. Cleveland High School |
| 6:30 PM | Sandia vs. Eldorado |
| 6:30 PM | Manzano High School vs. La Cueva High School |
| 6:30 PM | Volcano Vista vs Rio Rancho |
| 6:30 PM | Grants High School vs. Los Lunas High School |
| 6:30 PM | Albuquerque Academy vs. Del Norte High School |
| 6:30 PM | Eunice High School vs. Dexter High School |
| 6:51 PM | Sandia Prep High School vs. Hope Christian High School |
| 7:00 PM | Alamogordo High School vs. Mayfield High School |
| 7:00 PM | Atrisco Heritage Academy vs. St. Pius X High School |
| 7:00 PM | Portales High School vs Ruidoso High School |
| 7:54 PM | Valencia High School vs. Miyamura High School |
| 9:26 PM | Piedra Vista High School vs. Farmington High School |