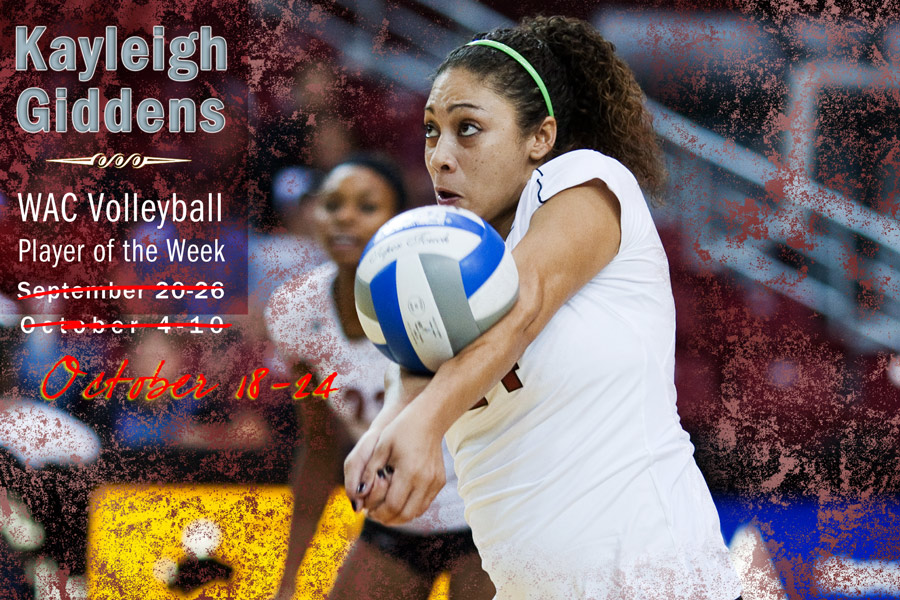 Here we go again. Giddens won her third POTW for her performance on the road against Nevada and Utah State, and being generally awesome.
Courtesy Paragraph
DENVER – The New Mexico State senior Kayleigh Giddens has been named Western Athletic Conference Player of the Week for the week Oct. 18-24.  This is the third Player of the Week honor of the season for Giddens and the fifth of her career.
She now ties for the most conference player of the week honors in a career at NM State with former Aggie greats Amber Simpson (2004-08) and Jackie Godber (2000-03).  Godber's honors came while NM State was a part of the Sun Belt Conference.
"To be in the same categories as those players is great," Giddens said.  "I hope I can continue to contribute for my team the way they did."
Giddens led the Aggies to a pair of road wins as she helped the Aggies come back from being down 1-0 at Nevada, Oct. 21 and help her team sweep Utah State in Logan, Utah, Oct. 23.  In the seven sets, she averaged 5.71 kills, 2.14 digs and 0.71 blocks.
She started with a match-high 23 kills against the Wolf Pack, while she added nine digs and three blocks.  Giddens then tallied a match-high 17 kills against the Aggies of Utah State to go with six digs and two blocks.
There are now six matches where Giddens has marked at least 20 kills and she has posted double-digit kill figures in 19 of the Aggies' 24 matches this season.  She also has seven double-doubles this season.
The Aggies look to a match with conference leader Hawai'i, who comes in No. 5 in American Volleyball Coaches Association (AVCA) Poll, which came out October 25.  The match is set for Sunday, Oct. 31 at 9:00 p.m. (MT) and will be televised by AggieVision on Comcast throughout the state of New Mexico.