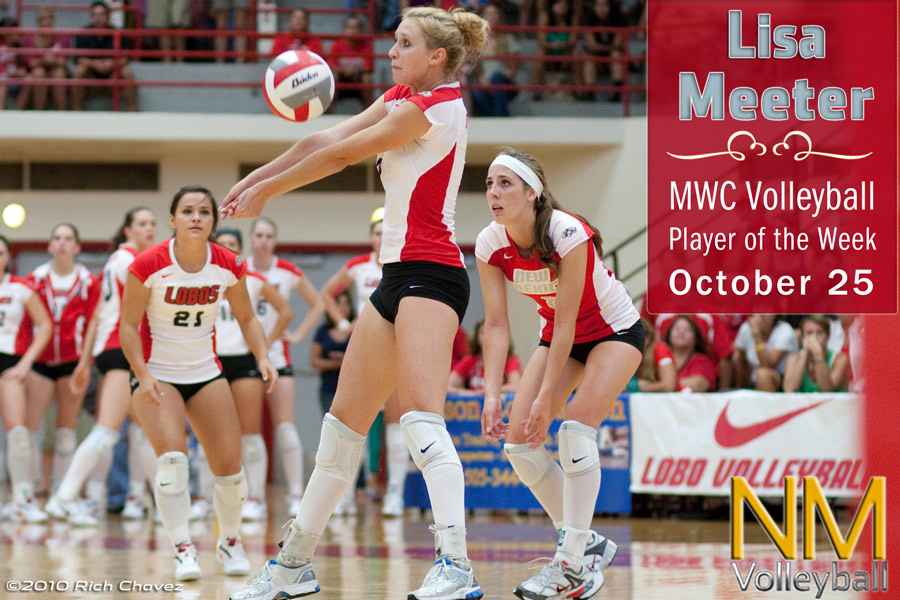 Courtesy MWC
Colorado Springs, Colo. — With a big weekend sweep of BYU and Utah, many different Lobos had big weeks. Jade Michaelsen became the school's all-time assist leader, Mariah Agre had career-high digs in both matches, and Allison Buck had a career-high in digs as well. Lisa Meeter, however, had the biggest week of them all, and because of it, she shared Mountain West Conference Player of the Week honors. She split it with Air Force Academy outside hitter Caroline Kurtz
Meeter, a 5-10 senior from Colorado Springs, Colo., led the Lobos back into a tie for second place in the MWC with a pair of 3-1 wins over BYU and Utah in Albuquerque. Meeter recorded 18 kills and nine digs against BYU on Oct. 21 while hitting .441. Against Utah on Oct. 23, Meeter led the team with 15 kills and 18 digs for the 34th double-double of her career.
For the week, Meeter averaged 4.13 kills, 3.38 digs and 4.56 points per set, while hitting .333 (33-8-75) over eight sets. She also had six assists, two service aces and three blocks.
Kurtz, a 5-10 senior from Albuquerque, N.M., led the Falcons to their first MWC win since Nov. 7, 2005, ending a 74-match losing streak on Oct. 21 with a 3-1 win over San Diego State in Colorado Springs. Kurtz recorded a career-high 24 kills and added 13 digs for her 20th career double-double. She hit .286 in the Falcons' only match of the week. The 24 kills is the most by an MWC player in a conference match this season and ranks second in overall matches.
For the week, Kurtz averaged 6.00 kills, 3.25 digs and 6.00 points per set, while hitting .286 (34-8-56) over four sets. She also had two assists.
Ironically, the two will face each other on Sunday, Oct. 31 in a nationally-televised match. CBS College Sports Network is offering a free preview from Monday, October 25-Saturday, November 6. The preview features two MWC volleyball matches, a doubleheader on Sunday, Oct. 31 starting with TCU at UNLV at 1 p.m. (PT), followed by the New Mexico at Air Force match at 4 p.m. (MT).
For more information about the CBS C Preview, go to http://www.themwc.com/sports/w-volley/spec-rel/102410aaa.html