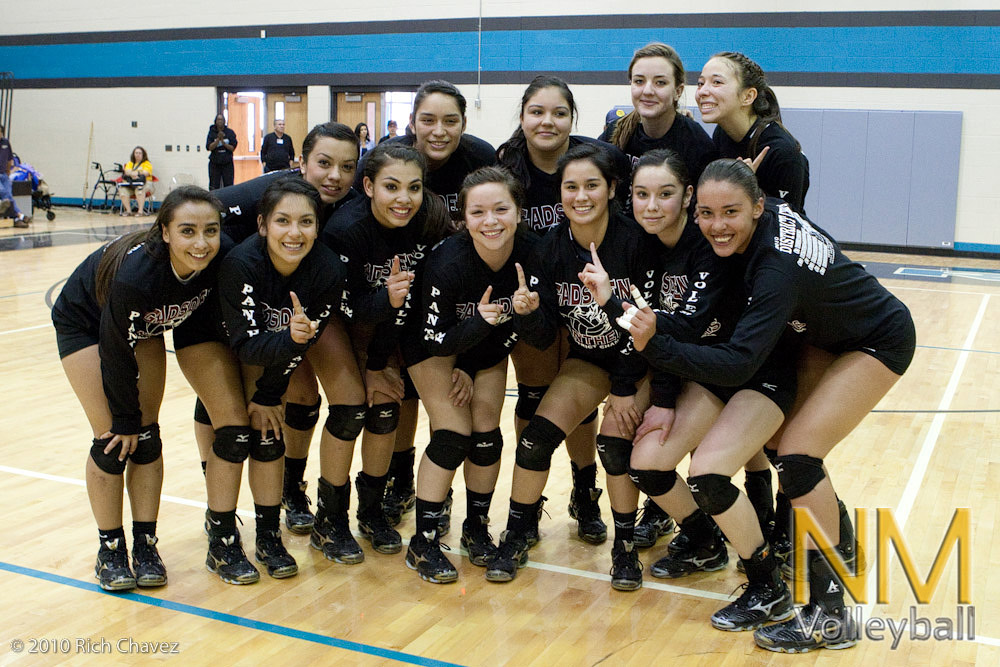 Given the walloping Cruces put on Mayfield last Thursday, I was a little surprised at the outcome of this game. As many fans in the 3-5A region know, Mayfield, Cruces and Gadsden all have strengths that match up particularly well against their district foes; this season seems to be a bit topsy-turvey as Gadsden has done very well against the Dawgs and Trojans.
Against Cruces on Saturday, Gadsden had some fantastic performances from Amber Miramontez, Megan Kuykendall and of course, Nathalie Castellanos. I think if Cruces can get in the right state of mind, and play like they did against Mayfield on Thursday or against Rio Rancho, they can be a force up at state.
Courtesy Story
SANTA TERESA — Playing on a team dominated by underclassmen can be a challenge for a senior.
But for Gadsden High senior Amber Miramontez, it also means ending her prep career with a District 3-5A volleyball tournament championship.
"It's a great moment for the program and they will be even better next year," Miramontez said. "As a senior, it was great to be a part of it."
Miramontez and the Panthers won their first tournament championship under coach Al Rosen after running the table in district play in the regular season. The Panthers topped third-seeded Las Cruces 25-20, 25-10, 25-12 on Saturday at Santa Teresa High School.
After a close first set, the Panthers showed why they were unbeaten in district play this year.
"The difference was intensity and communication," Miramontez said. "We always have had a hard time with Las Cruces."
Tournament seeding for Class 5A will take place today in Albuquerque.
"We have won the regular season before and we won the Sweet 16 this year but we never have won the district tournament so it was sort of a goal of ours and I'm happy we achieved it," Rosen said.
Miramontez finished with three kills, six digs and two aces, but it was junior hitter Nathalie Castellanos who the Bulldawgs couldn't stop. Castellanos had 14 kills, three digs and an ace. Junior setter Evelyn Hernandez had 20 assists and sophomore hitter Megan Kuykendall had 10 kills.
"Gadsden was very good today," Las Cruces coach Keith Leupold said.
"Nathalie was good and they got great swings from Megan."
The lopsided result was surprising after a competitive first set that saw the teams swap the lead before the Panthers took the lead for good at 15-14.
Castellanos had six kills in the second set as the Panthers led from start to finish. Gadsden scored the first three points of the second and steadily pulled away with several mini runs before closing it out with a 7-0 spurt, capped by three-straight kills from Castellanos.
"I thought that we competed in the first game, but ball handling wasn't stunning," Leupold said. "They just played a great match."
Gadsden used a 6-0 run in the third to create a 13-7 cushion. The Bulldawgs closed to 13-10 but the Panthers scored the next five.
"There were a little bit of nerves in the first because we have lost to Cruces in the past, like the tournament championship two years ago at our place," Rosen said. "We had a few milestones this season, but like I told the girls, they can enjoy it today and then we have to get ready for the state tournament."
The Bulldawgs also have a young nucleus that has to regroup before the state tournament next week.
"We will see where we are seeded," Leupold said. "We are young in a lot of places. We will see if we are starry eyed or if we go to compete."