Courtesy UNM Athletics Department
Volleyball Signs Three, Including Rio Rancho's Trombley
Also sign a pair of 6-footers in Elsa Krieg and Megan Short
Nov. 10, 2010
Albuquerque, N.M. — New Mexico Lobo head volleyball coach Jeff Nelson has his team on a roll with five straight wins and a meeting with nationally-ranked Colorado State on Thursday night on the The mtn. Apparently that roll continued right on with signing day, as the Lobo head man inked three to national letters of intent, including Rio Rancho outside hitter Jayla Trombley. Other signees include Elsa Krieg from Granby, Colorado and Arlington, Texas' Megan Short.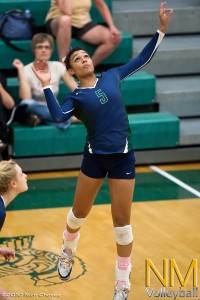 "The 2011 recruiting class is very strong and fills some of our immediate needs," said Nelson. "It was important for us to get a couple of middles and then we got a solid all-around player who can play every position in the front row. We wanted to add some size, as well. I feel this group will really help us to continue to grow and improve."
Nelson felt that along with the high school credentials, the three have great junior backgrounds, such as Krieg, who played on the same Colorado Juniors club team that produced current standout Lisa Meeter.
"All three recruits come from solid junior programs, as well as great high school programs. It will be an honor to have the opportunity to coach them, and watch them grow through college."
Krieg is a 6-2 middle blocker from Granby, Colorado, and she was named Frontier League MVP as a junior and a senior, and she is a two-time all-state pick as a sophomore and junior. She was also a three-time Rocky Mountain All-Region pick (2007-09), and she was named to the 2010-11 AVCA Under Armour Girls' High School All-America Watch List. Krieg also excelled in track, earning all-conference in the discus and shotput and placing in both at the state meet (sixth in the shot, eighth in discus)
Said Nelson of Krieg, "Elsa's size and ability to hit off one foot along with her high level of experience will add to our offense and blocking immediately. She is very strong and extremely physical at the net." Nelson knew right away Krieg was a player he wanted in the Cherry and Silver. "I liked her the first time I saw her and felt she was a player who could really add to our team both on and off the court. She has gained a lot of experience through her junior club, Colorado Juniors.
"I chose UNM because the second I got on campus, I knew it was the place for me. I love the girls so much and I'm really excited about where Coach Nelson is taking the program," said Krieg. "I feel I can contribute a lot to the program and am excited to be a Lobo!"
Trombley is no stranger to the area, leading Rio Rancho to the 2007 and 2009 state title in 5A, and a runner-up finish in 2008. She too was named to the AVCA 2010-11 Under Armour Girls' High School All-America Watch List, and she also was named Prepvolleyball.com Senior Aces 2011: Top 150. She also was named New Mexico Division 5A All-State Honorable Mention in 2008.
All in all, it wasn't a long recruiting trip to see Trombley, but that familiarity certainly helped. "I have had the opportunity to watch Jayla play the past three years and have seen her great athleticism and her growth as a player," said Nelson. "She is capable of playing multiple positions for us and is extremely quick. Rio Rancho is a program with great tradition and she is a proven winner. It is exciting to again have top level local talent heading to UNM."
"I chose UNM because the moment I walked into the gym, something told me that this is where I need to be. Also, I feel like I'll fit in so well there. The coaches have a work ethic that I really, really like," said Trombley.
As for Megan Short, the only thing short about the 6-3 middle from Arlington, Texas is her name. She is a two-time first team all district 4-5A pick (2008-09), leading her squad to back-to-back District 4-5A Championships in 2009 and 2010, earning First Team All-District 4-5A both times as well. She earned the LHS Jimmy Jones Award twice, and was a 2010 Junior Olympic National Champion.
In Short, Nelson gets another big and versatile player. "Megan fills dual needs for the Lobos, as well. She comes from an outstanding club program, where her team was National Champions last year in 17 open."
"Nelson added, "She is tall and strong and has a lot of potential to really do well here. I think she can be an outstanding blocker for us."
"I knew that I wanted to go to New Mexico as soon as I walked on campus," said Short, echoing her new teammates and what most recruits think when they visit New Mexico. "The girls were really nice and made me feel at home. I know I'm going to get great coaching and really grow as an athlete and person at University of New Mexico."
The Lobos currently sit at 16-8 overall and in second place in the Mountain West at 8-3, and they have won 12 of their past 15 matches. The match against #13 Colorado State starts at 7:30 p.m.