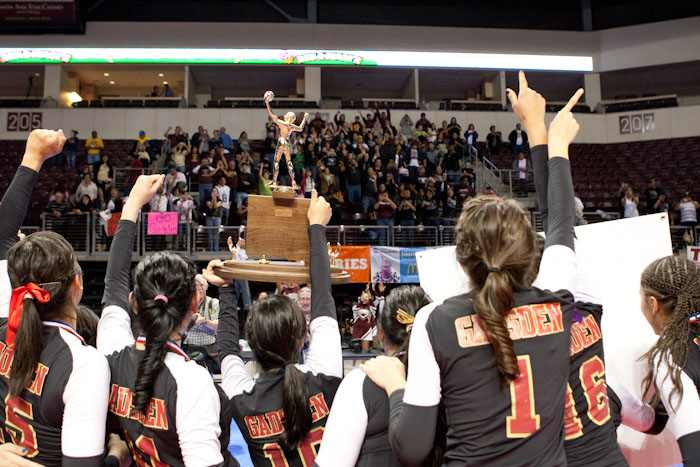 Congrats to Gadsden for pulling off the big win over Cleveland on Saturday night, 23-25, 25-21, 25-15, 25-19, in a hard fought battle in front of a great crowd.
Al Rosen, Gadsden's head coach, went to his best weapon, Nathalie Castellanos, early and often. Although it took Gadsden a set to get warmed up, they had the Cleveland defense on their heels. Castellanos was a monster throughout, with Amber Miramontez, Megan Kuykendall, Vero Rosen and Cristal Quinones all chipping in.
Setter Evelyn Hernandez ran the show with ease and I have to compliment the Panther back row, especially Nicole Enriquez for a rock solid game. Trying to pick up the massive attacks from the Storm's premiere cadre of hitters; Cassie House, Sara Hattis and Courtney Lawson is not an easy task.
Storm head coach Ben Wallis has done an outstanding job with such a young team, and kudos to him and his staff for getting the team into the big match in only the program's second year in existence. I think this year's performance is a pretty good indicator of the program's direction and fully expect to see the Storm winning their own title in the near future.
Read more about the win in the Las Cruces Sun-News
Read in the Albuquerque Journal (subscription required)