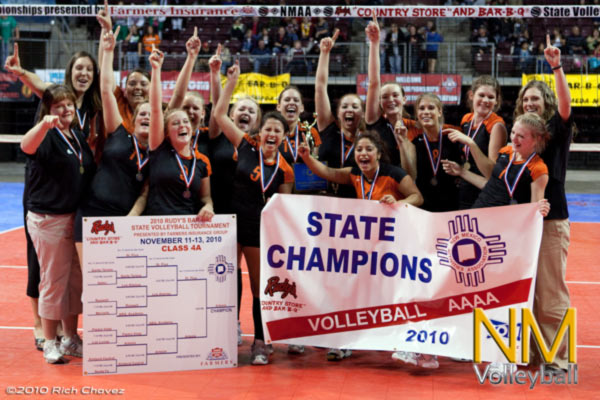 Artesia, a team with a mission, showed up in Rio Rancho, and executed their game almost perfectly.
After a slow start and losing the first set, the Bulldogs starting clicking, beating the St. Pius Sartans, 19-25, 25-17, 25-23, 25-21.
Surprising to me was the domination the Bulldog front row had at the net. The Sartans have some mighty fine hitters, including Sara Weber and Lexi Biondi and while the Sartan crew had a pretty easy go of it the first set, the Bulldogs clamped down on St. Pius and made it difficult at best.
The same front row played a fantastic offensive game as well; Hannah Ballew, Jenna Elkins (who could forget the El Paso game at Sweet 16?), Kelli Richards, Jenna Elkins and of course, J.D. Madrid all contributed.
I think what ultimately brought Artesia blue trophy was they played together as a true team, perhaps more so than any other team that I watched at the tournament. There's no "star" per se, but rather individuals each doing their respective tasks very well, and getting it done. That speaks volumes to their efforts and a great coaching staff.
Congrats!