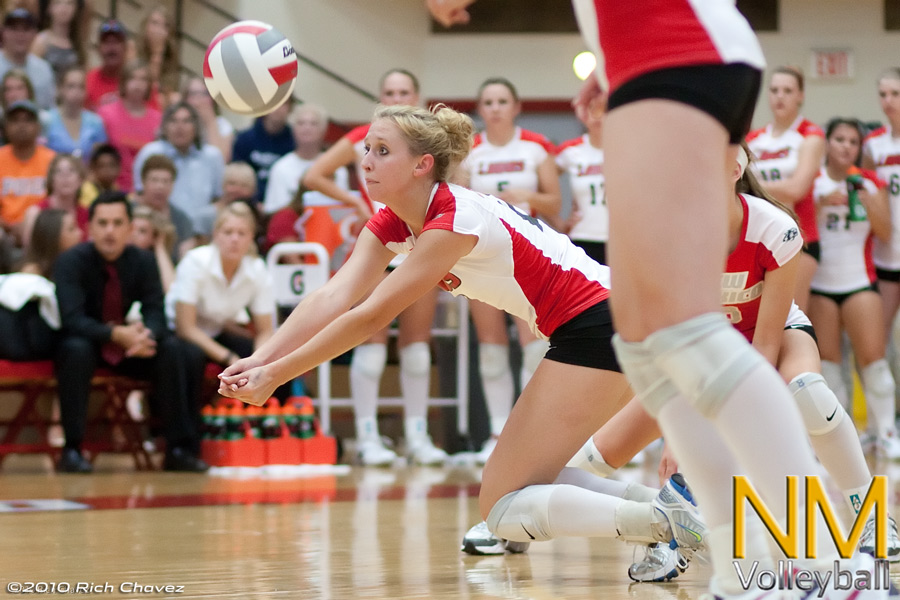 UNM did a great job handing Colorado State the loss last week, where Meeter tallied 15 kills, three assists and 15 digs and hitting .355. An excellent win against a top-ranked team that should turn some heads and get UNM some much-deserved attention.
Lisa Meeter Earns Third Mountain West Player of the Week Award
Helped Lobos to seventh straight win
Courtesy MWC
Nov. 15, 2010
Colorado Springs, Colo. -­ Lisa Meeter just keeps winning awards. For the third time this season, the senior outside hitter has been named Mountain West Conference Volleyball Player of the Week.
Meeter, a 5-11 senior from Colorado Springs, Colo., led the Lobos to 3-0 wins over No. 13 Colorado State and Wyoming last week. Meeter recorded double-doubles in each match, starting with a team-leading 15 kills and 15 digs in UNM's first win over a ranked opponent since Oct. 6, 2007 on Thursday night. Against Wyoming on Saturday, she recorded 12 kills and 10 digs to go along with three blocks.
The double-doubles gave her a career-high 13 this year, and 37 in her career, good for a tie for 6th on the MWC charts. She was the player of the match and interviewed on national television after the win over Colorado State, which was shown on the mtn.
For the week, Meeter averaged 4.50 kills, 4.17 digs and 4.17 points per set, while hitting .344 (27-6-61) over six sets. She also had four assists and three blocks. The Lobos head to Utah on Thursday for another match on the mtn., starting at 7:30 p.m., and then the squad travels to BYU for a 7:30 p.m. match on Saturday night.
Meeter previously won the award on Sept. 20, and she was co-player of the week on Oct. 25.