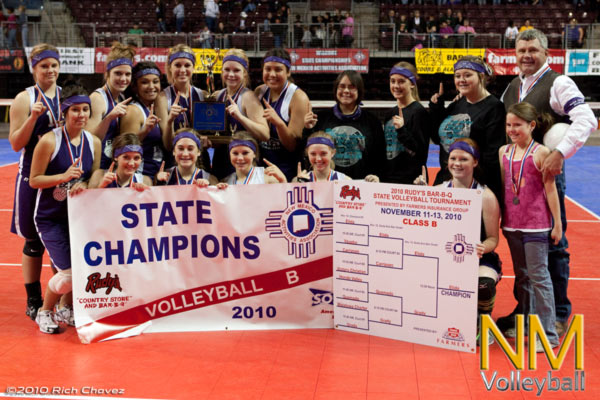 Congrats to the Lady Tigers for earning the first ever Class B state championship, in their sweep of Grady (25-15, 25-15, 25-18).
Even though this new class is for the smaller schools, it doesn't mean they play with less heart than the Gadsdens and Artesias.
Senior outside hitter Amanda Cross-Smith, Revis Smith and Kaylen Jasso all chipped in at the net to keep the Lady Bronchos at bay.
In set two, Grady made it interesting at the beginning of the match, going blow for blow with Elida, and even leading 8-6, but a pair of tricky Alanna Cross-Smith aces gave the Tigers the lead and they never looked back.
Set three was much the same, as Grady pulled ahead on several consective hitting errors from Elida, leading by as many as five points. The same errors that plagued the Tigers, reared their ugly heads to Grady; Elida got the go-ahead on a net violation, hitting error and a carry.
Grady gave the Tigers a great game, but in the end they couldn't quite execute well enough. Losing Mandy Rush and Kaitlin Grau to graduation will be a minor setback to the Lady Bronchos, but with the likes of  Josy Sepulveda, Mackenzee Starbuck and Joan Lampley to build on the experience, expect Grady to be in the mix next season.
Great job, Elida!