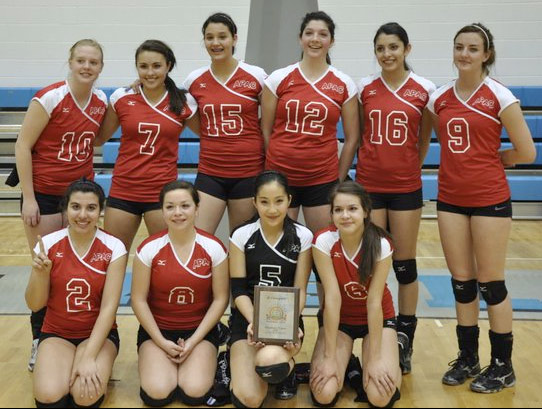 Congrats to the El Paso APAC 16s team who beat a talented NM Jrs 17 Jeff squad to take home gold in the 18s division at last weekend's Presidente Picante volleyball tournament in Albuquerque, NM.
APAC scored wins against AZ Saguaros 18's from Phoenix, PVP 18 Rox from Amarillo, and NEVBC 18's from Durango CO racking up an impressive overall record of 6-0-1 and 13-2 in sets.
Front row: Monica Claxton (S), Kelly Acosta (DS/L), Grace Park (L), Sarah Villa (DS/S/OPP). Back row: Meghan Miller, Celina Hernandez, Mason Mizener, Nivia Grajeda, Mariana Caballero, Meghan Kuykendall. Photo courtesy of Patrick Claxton.