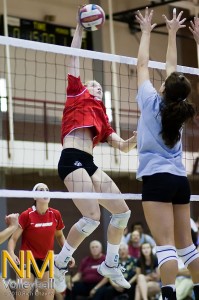 Congrats to Ashley Rhoades for being named to the 2011 U.S. Women's National A2 roster. Rhoades was selected from 204 athletes, representing 81 college programs.
Rhoades, a product of Rio Rancho, helped lead the Lady Rams to three consecutive 5A state title ('05-'07) and earned numerous awards in her prep career.
Courtesy UNM Sports Information Department

March 21, 2011

Colorado Springs, Colo. – Upcoming senior Ashley Rhoades, a Rio Rancho native, was selected as one of 36 players to the 2011 U.S. Women's National A2 Program roster. The roster is stocked with players with remaining collegiate eligibility, and Rhoades was the only Mountain West player selected, and one of three players to come from non-BSC conferences. Rhoades was selected after participating in the U.S. Women's National Team Open Tryouts held Feb. 25-27 at the U.S. Olympic Training Center in Colorado Springs. A record 204 athletes participated in the three-day tryouts, representing 81 different college programs

The U.S. Women's National A2 Program will take place in Dallas from May 23 through June 1. The program includes training and competition in the 2011 USA Volleyball Open National Championships in the Open Division from May 28-31. USA Volleyball considers the event as the National Championship for the sport of volleyball in the United States.

"Each year, the depth of talent has increased to the point that it made sense to involve 12 more athletes in the Women's A2 program and enter a third team in the USA Volleyball Open National Championships," USA Volleyball Managing Director of Indoor High Performance Tom Pingel said. "I am very much looking forward to this group of athletes and coaches assembling in Dallas in May."

The 2011 U.S. Women's National A2 Program will have six setters, nine middle blockers, 10 outside hitters, five opposites and six liberos. Rhoades averaged 1.08 blocks per set to lead New Mexico as a junior last fall. She added 2.42 kills per set while holding a .254 hitting efficiency. For the season, Rhoades averaged 3.10 points per set as the Lobos reached the NCAA Tournament for the second consecutive season.

Along with Rhoades, middle blockers in the 2011 A2 Program include Rachael Adams (University of Texas, Cincinnati, Ohio), Cassandra Anderson (University of Florida, Bakersfield, Calif.), Brittney Brimmage (University of Missouri, East St. Louis, Ill.), Kelli Fiegen (South Dakota State University, Parkston, S.D.), Cursty Jackson (University of Arizona, Los Angeles), Correy Johnson (University of California-Berkeley, Winter Park, Fla.), Alexis Mathews (Michigan State University, Detroit, Mich.) and Gwen Rucker (University of Louisville, Lexington, Ky.).

"I'm extremely excited for Ashley. She has worked extremely hard and is a very gifted athlete," said head coach Jeff Nelson, who will be entering his fifth season with the Lobos in the fall of 2011. "Looking at the roster, Ashley is in the company of some tremendous players, and I think she will represent New Mexico and the Mountain West Conference very well."

Along with Rhoades, only Missouri State setter Carly and South Dakota State middle Kelli Fiegen are the only others on the roster that are not a part of a BSC conference.

Geoff Carlston (Ohio State University), Fran Flory (LSU) and Kelly Sheffield (University of Dayton) will serve as the three head coaches for the U.S. Women's National A2 Program in 2011.

A total of 22 colleges are represented in the U.S. Women's National A2 Program with University of Texas, University of Florida, University of Illinois and University of Tennessee having three players each. The A2 group represents 13 states, led by Illinois with nine players and California with seven. Texas has four players in the mix, including two players from the same hometown – Amarillo.

Bonilla, Hagglund, Kingdon, Plum, Robinson and Thomas are also eligible for the U.S. Women's Junior National Team, which will be announced in early May. All six players were born in either 1992 or 1993. The U.S. Women's Junior National Team will compete at the 2011 FIVB Women's Junior (Under 20) World Championship held July 21-30 in Peru.

During the training sessions in Dallas, the coaching staff will divide the 36 players into three teams of 12 players to compete in the USA Volleyball Open National Championships. Last year, two A2 teams competed in the Open Division, producing a gold and bronze medal.
| Name | College | Position | Height | College Years Left | Hometown |
| --- | --- | --- | --- | --- | --- |
| Rachael Adams | Texas | MB | 6-2 | 1 | Cincinnati, Ohio |
| Cassandra Anderson | Florida | MB | 6-1 | 1 | Bakersfield, Calif. |
| Ashley Bannister | Texas | OH | 6-1 | 3 | Sugar Land, Texas |
| Brianne Barker | Oklahoma | S | 5-9 | 1 | Amarillo, Texas |
| Michelle Bartsch | Illinois | OPP | 6-4 | 1 | Maryville, Ill. |
| Kelsey Black | Texas A&M | OH | 5-11 | 1 | Amarillo, Texas |
| Alaina Bergsma | Oregon | OH | 6-3 | 2 | Chandler, Ariz. |
| Jennifer Bonilla | Illinois | L | 5-9 | 3 | Reseda, Calif. |
| Taylor Brauneis | Louisville | S | 5-10 | 3 | Crystal Lake, Ill. |
| Brittney Brimmage | Missouri | MB | 6-3 | 1 | East St. Louis, Ill. |
| Morgan Broekhuis | Nebraska | OPP | 6-5 | 3 | Colorado Springs, Colo. |
| Leslie Cikra | Tennessee | OPP | 6-4 | 2 | Chagrin Falls, Ohio |
| Carly Cramer | Purdue | L | 5-6 | 2 | Martinsville, Ind. |
| Kelli Fiegen | South Dakota State | MB | 6-3 | 2 | Parkston, S.D. |
| Ashley Frazier | Kentucky | OH | 6-1 | 2 | Oregon, Ohio |
| Natalie Hagglund | Southern California | L | 5-9 | 3 | Encinitas, Calif. |
| Cursty Jackson | Arizona | MB | 6-1 | 1 | Los Angeles, Calif. |
| Kristy Jaeckel | Florida | OH | 6-2 | 1 | Littleton, Colo. |
| Kayla Jeter | Tennessee | OH | 5-11 | 1 | Solon, Ohio |
| Correy Johnson | California | MB | 6-4 | 2 | Winter Park, Fla. |
| Madison Kingdon | Arizona | OH | 6-0 | 4 | Phoenix, Ariz. |
| Michelle Kocher | Texas | S | 5-10 | 1 | Wheaton, Ill. |
| Alexis Mathews | Michigan State | MB | 6-4 | 3 | Detroit, Mich. |
| Monique Mead | Georgia Tech | OPP | 5-9 | 2 | Newnan, Ga. |
| Kelly Murphy | Florida | S | 6-2 | 1 | Wilmington, Ill. |
| Tarah Murrey | California | OH | 6-3 | 1 | El Cerrito, Calif. |
| Lauren Plum | Oregon | S | 5-9 | 3 | Poway, Calif. |
| Ashley Rhoades | New Mexico | MB | 5-11 | 1 | Rio Rancho, N.M. |
| Kelsey Robinson | Tennessee | L | 6-2 | 3 | Bartlett, Ill. |
| Gwen Rucker | Louisville | MB | 6-2 | 1 | Lexington, Ky. |
| Francesca Silva | Notre Dame | L | 5-3 | 1 | Laguna Nigel, Calif. |
| Carly Thomas | Missouri State | S | 5-11 | 3 | Swansea, Ill. |
| Ariel Turner | Purdue | OH | 6-1 | 2 | Highlands Ranch, Colo. |
| Colleen Ward | Illinois | OH | 6-3 | 1 | Naperville, Ill. |
| Carli Weiler | Michigan State | L | 5-4 | 1 | Oak Lawn, Ill. |
| Allegra Wells | Mississippi | OPP | 6-1 | 2 | Garland, Texas |