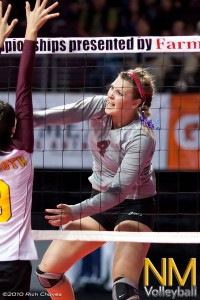 Congrats to Tularosa standout Hannah Syling, for committing to play for the Oklahoma Panhandle State Aggies.
Syling graduates in 2011 with numerous athletic and academic awards. Athletically, Hannah has been a 5 year varsity letterman, has been named to the District 2-5A All District Team, and has been district 5-2A Player of the Year for three years in a row. While she led the Wildcats to two consecutive AA finals and fell short against Texico both times, she was honored with 2010 2-A Player of the Year.
Academically, Hannah will graduate at the top of her class, maintaining a 4.0 grade point average.
Located in Goodwell, Oklahoma, OPSU competes in the Heartland Conference, a NCAA Division II conference. Lead by Mike Stephens, the Aggies had a difficult season last year, going 6-25 overall, with a 2-11 league record. Look for Syling to have an immediate impact for the Aggies.
Hannah is an exceptional young lady, and obviously has the tools to find success in volleyball and whatever else she chooses. Congrats again, and GOOD LUCK!