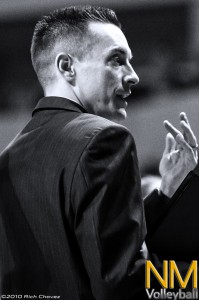 Ben Wallis is making the jump from high school to D1 volleyball, taking over the assistant coaching position vacated by Steve Hendricks last month to head the program at Barry University.
Wallis leaves the Cleveland Storm, the runner-up finisher in last year's 5A campaign, a team brimming with talent and considered a contender this season.
"I'm really excited about it but it has been so tough leaving my program, my kids, and a loaded team," Wallis said.
Wallis has bounced around the southwest in his years of prep-level coaching, including a notable head coaching stint at Gadsden. He has called the Albuquerque area home for last few years, assisting at Rio Rancho and of course the Cleveland gig. The UNM position is the perfect opportunity for Wallis to advance his career without disrupting his family life.
"This job with UNM will be a great opportunity to work with someone new who is also very good at what they do and I don't have to uproot my family and move again."