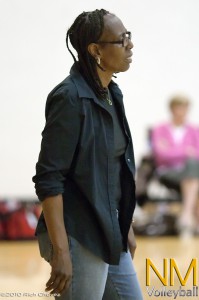 Oñate looks to gain some stability in their head coach position with the hiring of El Paso coaching legend Marian Bennett.
Bennett, associated mostly with her success at El Paso Burges and Montwood, had led Santa Teresa to a district title in 2010. On the club side, Bennett has led the El Paso Heat, coaching some notable El Paso area standouts.
The Knights have been in coaching limbo the past few years, with most recently with the single season tenure of Alice Borden, who left to pursue a different career path in California.
Hopefully Bennett will be able to strike root at Oñate and outlast her predecessors. One thing is certain; with a resurgent Mayfield, a  stronger Las Cruces squad and defending 5A state champs Gadsden in the district, Bennett will have her work cut out for her.
Read about the Bennett hire in the Las Cruces Bulletin and Meet the Preps.