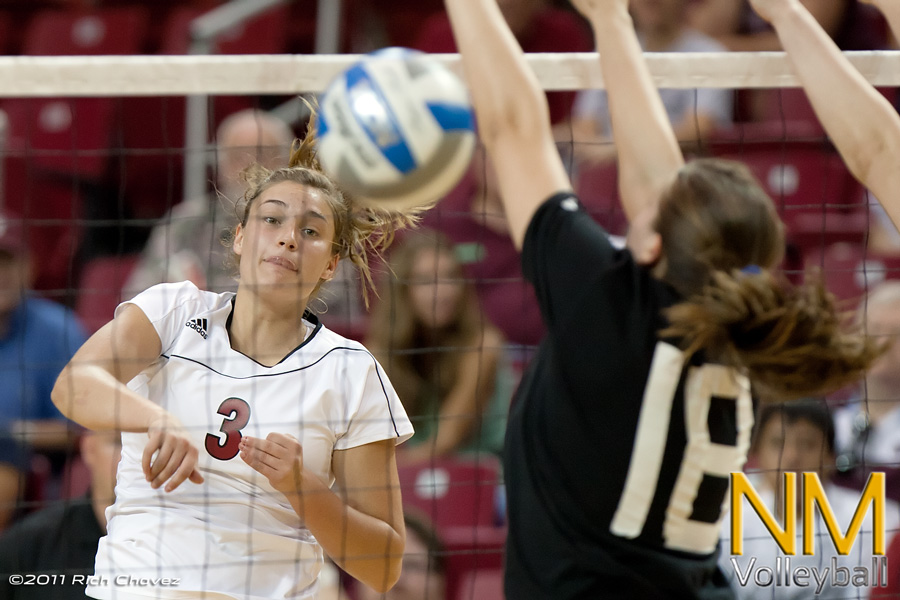 Courtesy NM State Sports Information
LAS CRUCES, N.M. – The New Mexico State volleyball team showed the kind of depth the team has as it swept the Aggie Alumni at the Pan American Center, Saturday, Aug. 20.
NM State defeated the Alumni team 25-21, 25-19, 25-16, 25-20 with freshman Meredith Hays leading the way offensively with 12 kills and three service aces. The Aggies showed off the young arms as freshman Bradley Nash tallied eight kills and red-shirt sophomore Stephanie Ziegler finished with seven.
"We tried out a few different lineups today and I was happy with the different looks we had today," head coach Mike Jordan said. "There is a lot of competition for spots and I expect to see some players make some strides this week."
The only sure starters heading into the season according to Jordan are Jennah DeVries at setter, as she tallied a team-high 27 assists against the Alumni, and Kelsi Phillips at libero. Phillips posted a match-high 12 digs. DeVries also had 11 digs and two kills in the four sets. Senior Brynja Rodgers got in the match as the Aggies practiced its 6-2 offense and she came up with 13 assists, three digs and two service aces.
"I thought that we did some things pretty well on the court today and with seniors like Jennah, Kelsi and Brynja, we should be able to compete with some of the top teams around," Jordan said.
Former Aggie outside hitter and record holder Kayliegh Giddens led the way for the Alum with 12 kills, while outside hitter Whitney Woods tallied nine kills on the night. Former setter Alyssa Gintant, who was a part of the 2008 WAC Champion team, handed out a match-high 32 assists on the afternoon. Angela Lobendahn-Peterson, who was a two-time All-Sun Belt Conference selection, led the way defensively with 12 digs and two solo blocks.
The Aggies now look forward to the opening weekend of NCAA Division I play as they head to Albuquerque to take on No. 5 Nebraska at 5pm, Aug. 26 and South Florida at 5pm, Aug. 27. Both matches will be aired on the radio in Las Cruces at KSNM AM 570 with Kyle Doperalski giving the play-by-play action.