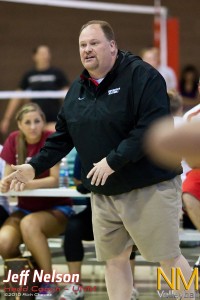 Lobos Beat UNM Volleyball Alumni, 3-1
Regular season begins Friday, Aug. 26 vs. South Florida in the MCM Elegante Lobo Classic
Aug. 20, 2011
ALBUQUERQUE, N.M. – The University of New Mexico volleyball team got a warm-up match in Saturday night against the Alumni team, beating the former Lobos, 3-1 (25-16, 25-17, 25-15, 22-25). It was pre-determined that the scrimmage would be four games, even though the Lobos took the first three.
"I like the adjustments we've made," head coach Jeff Nelson said. "I thought we blocked and passed the ball really well. Overall, I thought it was a great start. We graduated three All-Americans and everyone thought we were going to fall apart, but we are looking really good right now and I'm very pleased."
The Lobos looked sharp throughout the match and appear ready for the regular season to start. Senior Ashley Rhoades, who is coming off a summer in which she played for the 2011 U.S. Women's National A2 Program, looked like a seasoned veteran flying high around the net at all times. Rhoades finished the night with nine kills, while recording a stellar .412 hitting percentage.
Fellow senior Kelly Williamson looks stronger than ever. The Rhoades Scholar candidate led the Lobos with 12 kills in the match.
"It was so fun," Williamson said about playing against the Alumni squad. "I can't tell you how much we were looking forward to playing someone besides ourselves. I am just so happy with our team this year."
After the match, head coach Jeff Nelson couldn't help but gush about Williamson.
"She just leads by example everyday," Nelson said. "Every part of her game and her college experience is coming together right now, and I am just really happy for her."
The alumni were lead by former Lobos Jeanne Fairchild and Amy Wong, with both recorded eight kills on the evening. Assistant coach Lisa Beauchene had a the chance to get after her players, as she had a very nice match playing with the alumni squad leading the team with 27 assists.
It was a nice way for the Lobos to wrap up their preseason. Now they look ahead to the regular season which will begin on Friday, Aug. 26 against South Florida at 7:30 p.m. in UNM's first match of the MCM Elegante Lobo Classic. UNM will host the No. 5 team in the nation, Nebraska, on Aug. 27 at 7:30 p.m. Nebraska is a perennial powerhouse in the NCAA. The Cornhuskers were the 2006 national champions and are a pre-season top-five team in the nation heading into the MCM Elegante Lobo Classic.