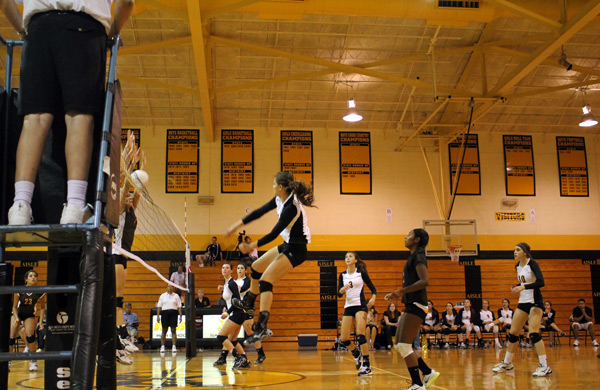 Journal Covers Area Teams
The Journal is running a story "Storm Could Be Tough To Beat" in today's edition (page D4). The metro-area teams do have a lot of talent and Cleveland is no doubt stacked, but I think La Cueva will be much stronger than they're given credit for. With all the reps Warren/Torr have had over the summer, the Bears are going to hit the ground running.
Nice coverage of 4A St. Pius. Their biggest challenger is obviously Artesia, who lost only one player to graduation and is probably one of the deepest teams in the state, regardless of classification. Lead by Weber, the Sartan front line has some quality players in Roveto and Biondi as well.
The "Seven Players to Watch" they picked is pretty comprehensive, but a glaring omission is Cleveland setter Jordan Bruere at setter (I know, there is only so much space). There are also a plethora of quality DS and liberos in the metro area. Are there other quality players you think were omitted? Comment below!
Seven Players to Watch
| | | | | |
| --- | --- | --- | --- | --- |
| Player | School | Ht | Pos | Yr |
| Julia Warren | La Cueva | 6-0 | OH | Jr |
| Rachael Bradley | Sandia | 5-6 | OH | Sr |
| Sara Hattis | Cleveland | 6-4 | MB | Sr |
| Jasmine Serna | St. Pius | 5-7 | S | Jr |
| Cassie House | Cleveland | 6-2 | OH | Jr |
| Brandi Torr | La Cueva | 5-6 | S | Jr |
| Sara Weber | St. Pius | 6-0 | OH | Sr |
Tonight's Games
| | |
| --- | --- |
| 05:00 AM | Springer High School at San Jon High School |
| 08:09 AM | Carlsbad High School at Loving High School |
| 08:47 AM | Grady High School at Tatum High School |
| 11:04 AM | Thoreau High School vs. Newcomb High School |
| 01:00 PM | Mesilla Valley Christian School vs. Chaparral High School |
| 02:26 PM | Jal High School vs. Midland Trinity (, TX) |
| 03:30 PM | Aztec High School at Shiprock High School |
| 04:00 PM | @ Portales JH |
| 04:00 PM | Ortiz Middle School vs. El Dorado Community School |
| 04:00 PM | Tohatchi High School at Crownpoint High School |
| 04:00 PM | Tohatchi High School at Crownpoint High School |
| 04:00 PM | Portales High School at Lovington High School |
| 04:00 PM | Miyamura High School at Laguna Acoma High School |
| 04:00 PM | Albuquerque Academy vs. Los Alamos High School |
| 04:30 PM | Floyd High School vs. Elida High School |
| 04:30 PM | Del Norte High School vs. West Mesa High School |
| 05:00 PM | Ramah High School vs. Navajo Pine High School |
| 05:00 PM | Walatowa High Charter School at Coronado High School |
| 05:00 PM | Sandia High School vs. Rio Rancho High School JV |
| 05:00 PM | Dexter High School vs. Mescalero Apache School |
| 05:00 PM | Mesilla Valley Christian (Las Cruces, NM) at Chaparral High School |
| 05:00 PM | Miyamura High School at Laguna Acoma High School |
| 05:00 PM | Albuquerque Academy vs. Los Alamos High School |
| 05:00 PM | Santa Rosa High School vs. Logan High School |
| 05:30 PM | Floyd High School vs. Elida High School |
| 05:30 PM | Eldorado High School at Valley High School |
| 05:30 PM | Capitan High School |
| 05:30 PM | Sandia High School vs. Rio Rancho High School |
| 05:30 PM | Del Norte High School vs. West Mesa High School |
| 05:30 PM | Dora High School vs. Lake Arthur High School |
| 06:00 PM | East Mountain High School vs. Monte del Sol |
| 06:00 PM | Hondo Valley High School vs. Clovis Christian School |
| 06:00 PM | Raton High School at Des Moines High School |
| 06:00 PM | Mesilla Valley Christian School at Chaparral High School |
| 06:00 PM | Miyamura High School at Laguna Acoma High School |
| 06:00 PM | Dexter High School vs. Mescalero Apache School |
| 06:00 PM | Gallup vs. Farmington |
| 06:30 PM | West Mesa vs Del Norte |
| 06:30 PM | Navajo Prep High School at Piedra Vista High School |
| 06:30 PM | Eldorado High School at Valley High School |
| 06:30 PM | Albuquerque High School at Manzano High School |
| 06:30 PM | Floyd High School vs. Elida High School |
| 06:30 PM | Albuquerque Academy vs. Los Alamos High School |