Shannon Niemeier is a senior outside hitter for the Carlsbad Cavegirls and Team Carlsbad VBC (Blackout 17).
The southpaw will graduate with 12 varsity letters; four in volleyball, four in basketball and four in track. With Carlsbad returning four talented seniors (Shannon, Taylor Edmondson, Kendall Muñoz and Diamond Morrell), four seems to be the lucky number for Niemeier.
With these four seniors at the core of an ever-improving team, Carlsbad has managed to best the previous year's performance each year, improving to a state tournament appearance in 2010, their first in nearly a decade—a feat they expect to repeat and improve upon in 2011.
Note: I conducted the interview prior to the season and the technical glitches with the website. My sincerest apologies go out to Shannon for the delay!
How was your summer?
It was really good; it was pretty busy with camps.
What kind of camps did you do?
I went to the San Angelo, UTEP and Highlands camp.
How was the UTEP camp?
I enjoyed it; I had a lot fun, it was really busy. I got to see a lot of players from club.
Did you do any team camps?
We went to the to the western Colorado camp in Gunnison.
How did that go?
We had a lot fun; we went white water rafting!
Talk about last year, how far did you guys progress in 2010?
We made it state for the first time in over a decade.
What did you walk away with from that experience?
It was good to go up and see how things are done. It's a lot different than basketball–I was surprised.
How's the team shaping up so far?
So far, we look really good. We haven't practiced too much, getting everything together. We just got Taylor (Edmondson) back.
Where was she?
Doing her basketball stuff.
I noticed your roster is completely loaded with seniors
Actually, two of our outside hitters Gillian Navarette and Kathy Rodriguez, wont' be returning, but we we've got juniors coming up to fill up their spots with Lacey Clutts, Gabbie Hinojos and Brianna Hunt, it's kind of like a battle between those three.
What do you think coach McKenzie has brought to the team?
She pushed us physically and mentally; she's all about the team.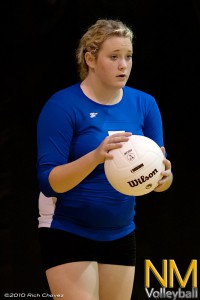 Who should we keep an eye on?
Definitely Diamond our setter, Taylor and Kendall; we have a core group of seniors that are all doing really good. And then we have a battle for libero with Erica Navarrette and Erin Sensibaugh.
I think Diamond probably doesn't get the credit she deserves; she's an amazing setter. You don't notice her because the hitters are getting all the attention.
Is she getting any looks?
She looking at mainly schools in New Mexico, but would be happy anywhere.
How's Taylor (Edmondson), she's playing outside?
She's going between outside hitter and middle—she's a versatile player.
How about Kendall Muñoz?
Kendall is an awesome leader; and she always the first one to work out and the last one to leave practice. She definitely leads by example.
How long have you four been playing together?
We've been playing since the 8th grade club season. Diamond's been my setter forever—we work really well together.
As far as competition goes in district you only have Clovis and Hobbs; what's your assessment of the district competition?
Hobbs is a pretty young team, and they have a new coach coming in (Laura Gottschalk), so I don't know much about them. Clovis, we played them in the summer at the Artesia camp, and we split with them a couple times. We're pretty evenly matched with them, but I think we'll pull it out.
Clovis has lost a couple of key players like their libero who was really good, and also their setter, but they also have Paige (Gardner) who's a good outside hitter, Alek Mendoza, and the Oñate transfer, Kaleigh Mitchell.
What's your focus in improving your game?
Improving my vertical; that's one of my main goals.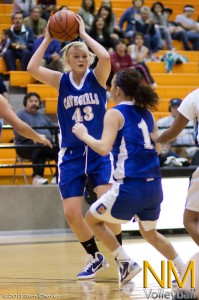 What about your other sports?
In basketball we had a good summer. Last year we got to the quarterfinal at state, and lost to Mayfield who won state; they were pretty good. We have me, Britni (Smith) and Taylor all returning. We have coach Zumbrun, too–he's a good coach.
Are you doing track as well?
I do the high-jump or run the 400.
How do you find the time to do all of this stuff?
I like doing it; there's nothing else I'd rather be doing. It's good to stay involved with the school.
Are you getting any looks?
I'm being recruiting be a few DII schools. I really haven't made a decision where I want to go, but there are some in NM and Texas.
What do you want to study?
I'm leaning towards nutrition or business, but I really don't know.
What are your predictions this year?
I think we could be top four in the state if we work hard, which I know we do. We need to keep progressing!
Shannon at a glance
Shannon plays Club for the Team Carlsbad Volleyball Club (Blackout 17)
View her highlight video on YouTube
View a video of her singing Adele's "Rolling in the Deep"!
2010
All-State Honorable Mention
All-District 4-5A First Team
Two All-Tournaments Teams(Sweet 16 and Clovis Invitational)
All-District 4-5A second team (basketball)
She also represented the Sun Country Region on their Women;s Junior International Team at the High Performance in Wisconsin Dells, Wi.
2009
All-District 4-5A First Team
Two All-Tournament Teams(Sweet 16 and Zia Classic) and all district honorable mention(basketball)
All-District 4-5A Newcomer of the Year.