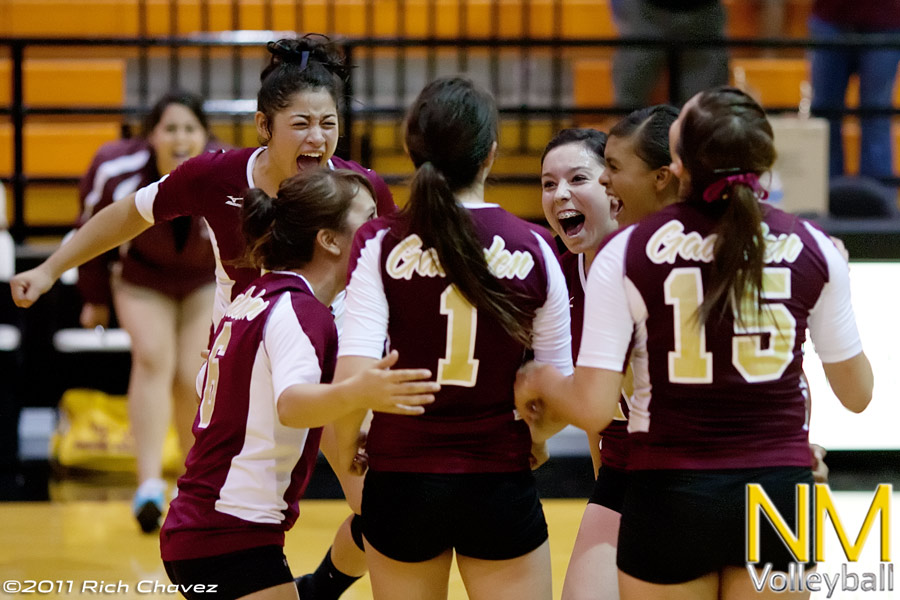 With their Gatorade Player of the Year and All American sitting in the crowd and another hitter on the bench, the Panthers managed to best the Bulldogs in five sets, with a gutsy comeback, 19-25, 22-25, 29-27, 25-22, 17-15.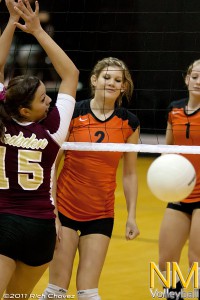 The championship match, pitting 2010 5A state champs against the 4A state champs, saw a tour-de-force offense in Artesia and a tenacious Gadsden squad battle it out in a memorable game.
In the first set, Artesia looked confident with Artesia's Hannah Ballew racking up six kills. Gadsden handed the Bulldogs the set on a net violation and hitting error.
Artesia began set two on a 5-0 run, but Gadsden managed to battle back to tie it up at 13 apiece. Massive blocks from Artesia's Elkins and Horner closed up the second set, 25-22.
The third set, one which neither team lead by more than two points, saw the momentum shift when Gadsden's Rosen twice found the open floor with free balls behind the Artesia back row, forcing a Bulldog time out. Artesia returned to the match with a Ballew kill and service ace, but gave the ball back on a service error. Battling for the set and match, Rosen, along with two consecutive Bulldog hitting errors, kept the Panthers alive; Rosen was able to seal the deal on a dramatic kill giving Gadsden the set 29-27.
The final set was fraught with errors (seven hitting errors, six service errors between both teams). Artesia jumped to an early lead with two Panther errors and an Bulldog ace, but four touches and a bad set from Artesia gave Gadsden a chance to get back into the game. Cristal Quinones finished the Bulldogs off with a kill for the game, 17-15.
Overall, this was one of the most dramatic matches I've seen in some time. It's always a treat to see Artesia play, and in spite of the loss, I would argue this is one of the best squads in the state. With players like Ballew, Elkins, Amy Horner and Kelli Richards, the Bulldogs will no doubt be a force to be reckoned with in the 2011 campaign. Accordingly, the Gadsden defensive game earned its stripes against Artesia; Nicole Enriquez proved why she's one of the best liberos around.
While Veronica Rosen didn't earn a spot on the All-Tournament team, she earned my vote for MVP of the championship game. Her performance throughout the match with her smart play and endurance, especially during the third set,  kept Gadsden in the game.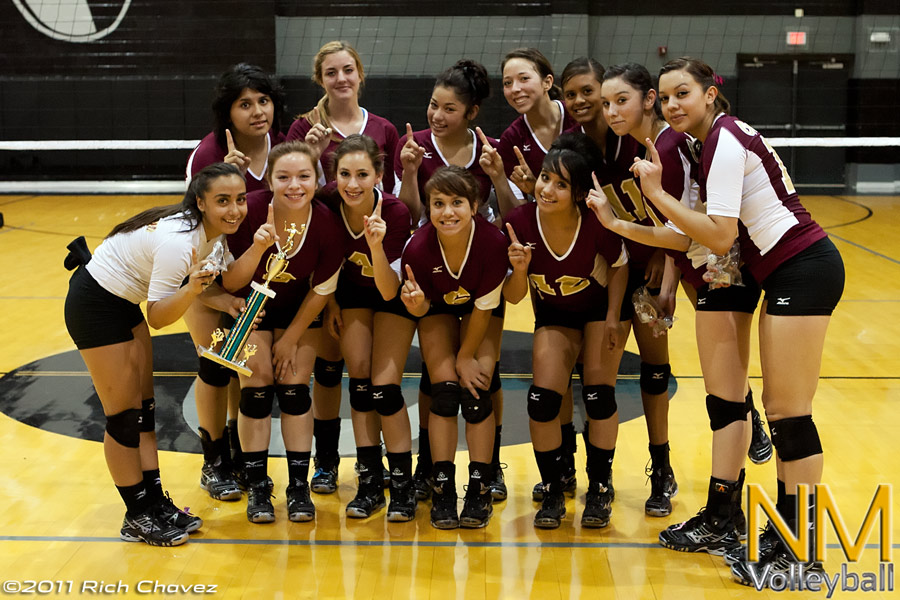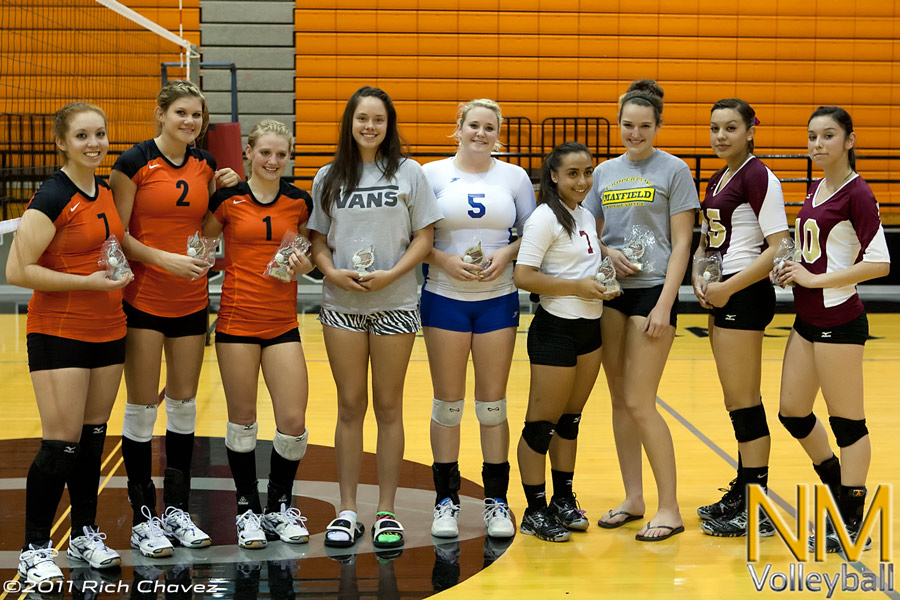 2011 All-Tournament team from left to right, Alexis Aguirre (Artesia), Jenna Elkins (Artesia), Hannah Ballew (Artesia), Marika Trujillo (Roswell), Diamond Morrell (Carlsbad), Nicole Enriquez (Gadsden), Allyson Lucht (Mayfield), Cristal Quiñones (Gadsden), Evelyn Hernandez (Gadsden)