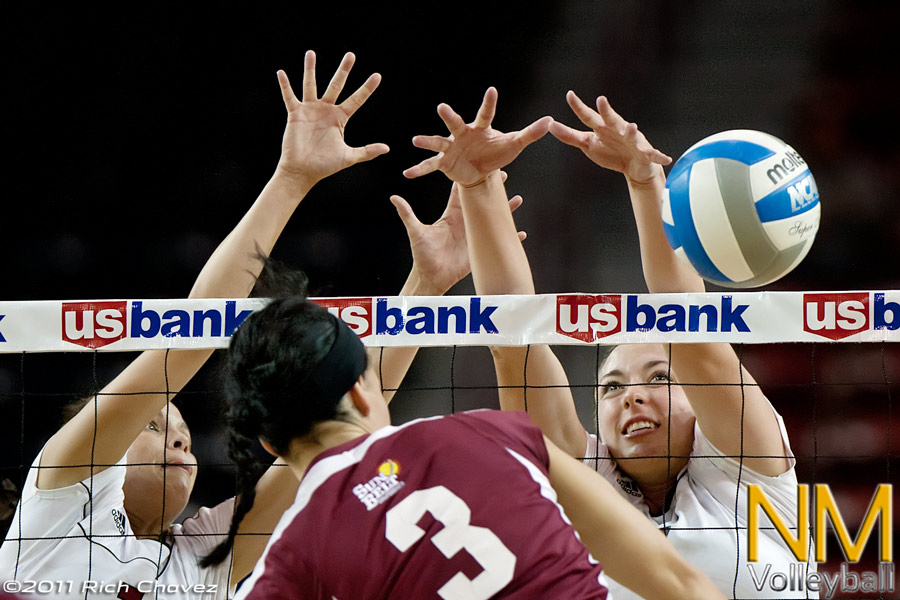 Courtesy NM State Sports Information
LAS CRUCES, N.M. – The New Mexico State volleyball team dropped its only match of the Hotel Encanto Classic losing to Louisiana State University in four sets (22-25, 25-22, 23-25, 18-25) at the Pan American Center, Saturday, Sept. 3.
The match was pretty even statistically as both teams hit under .200 and both teams tallied at least 10 blocks.  Freshman Meredith Hays led the way offensively posting the first double-double of her career with a team-high 14 kills to go along with 11 digs.  Senior libero Kelsi Phillips was the defensive leader, flying all over the court to post a match-high 16 digs.
"Kelsi Phillips passed the ball pretty well for us today and Jennah DeVries set the ball well, but you have to give credit to LSU because they are such a tough and physical team to play against," head coach Mike Jordan said.  "Today was a defensive battle and we just couldn't get the points when we needed them."
NM State setter Jennah DeVries tallied 30 assists on the afternoon and senior Brynja Rodgers added six.  Sophomore Stephanie Ziegler hand a decent match with nine kills with three other Aggies marking five kills on the day.
Set one saw a couple of bad serves put the down 7-5 but a kill by Hays and a block by senior Michelle Kuester tied the set at seven all.  NM State fell behind again but a four-point rally tied it up at 20-20.  With the set tied at 22, LSU scored three straight points to win 25-22.
After a couple of Aggie errors in set No. 2, LSU took an early 5-4 lead but NM State answered right back with a five point rally of its own to go up 9-7. After a long stoppage in play because of a controversial call at 19-18 the Aggies came back with two big kills from senior Kelsey Brennan to take a 21-19 lead.  NM State won the set 25-22 with the help of two stellar kills from Hays.
The third set saw LSU win seven of its first nine points by kills from its middle-blocker Desiree Ellioit.  Tied at 9-9, the set was back and forth until Elliot marked another kill to end the set at 25-23.  NM State fought hard in set four but hit just .075 compared to LSU hitting .308 in the set.  Eight attack errors by NM State led to a 25-18 loss and the conclusion of the match.
The Aggies now look forward to the CenturyLink Premier hosted by Texas State in San Marcos, Texas, Sept. 9-10.