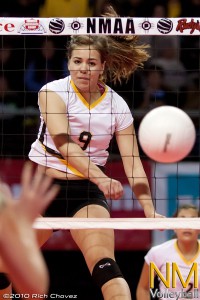 The annual Albuquerque Public Schools Metro Tournament, played over the course of four days, is set to kick off Tuesday at Volcano Vista High School and will feature some of the top teams in the state.
Defending champion Albuquerque Academy has started their season relatively strong, recording three wins at the Clovis tournament, but dropped their match at Los Alamos. The Chargers are one of the favorites again this year, but the volleyball landscape has changed drastically in Albuquerque since the 2010 campaign.
The biggest challenges will come from La Cueva and District 5-4A foe, St. Pius.
Starting off their season with a 3-1 victory over Cibola last week, St. Pius is a serious contender with talent throughout the squad. Senior OH Sara Weber spearheads the Sartan's attack, and understands what it will take to earn the big win.
"I think as long as we keep up good communication on the court and work on moving the ball around on offense, we have a good chance of going all the way this year," said Weber. "The competition is going to be pretty tough, we're looking forward to some challenging games against La Cueva and Academy, but I think it'll make for a really fun tournament."
With the return of Julia Warren and Brandi Torr running the offense, La Cueva figures to be a headache for opposing teams. Ranked #3 in the latest NMHSCA poll, Warren is looking forward to the tournament and is approaching the competition with a workmanlike attitude.
"I think the Metro Tournament is going to be a really fun, challenging tournament. St. Pius, Academy, Eldorado and Sandia are really good teams; there's going to be some really good competition, so we're going to just go and play."
No doubt defenses will focus on the monster outside hitter, but the Bears have a plenty of other offensive options.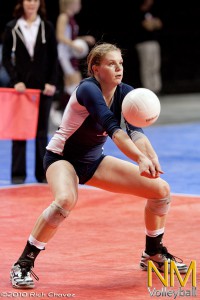 "People do camp out on me on the outside, but we have some really great hitters in Chloe (Crappell), and Symone (Green) and Emma (Barnes) in the middle," said Warren. "If everyone can just contribute to getting five to six kills and it's really evenly measured on the board, we can go far. We're working on moving me around hitting some different balls and Brandi does a really good job mixing the sets, so it's going to be really fun."
Eldorado, Cibola and Sandia, the other 5A teams ranked in the Top 10 poll, will have their work cut out for them.
With the mass exodus of last year's seniors, Eldorado will depend on Michelle Skinner, Karen Urbina and Megan Schnedar. Skinner, averaging three kills per game thus far, seems to be the Eagle's most consistent weapon.
With the Moriarty tournament as a warm up, Sandia has two games and two victories under their belt, but I'm not sure if wins over Los Alamos and Texico will have the Matadors prepared.
Cibola rounds out the ranked 5A teams. I think the game and resulting loss to St. Pius last week is advantageous to the Cougars–it puts their goals and expectations in perspective. They've faced one of the top teams in the area and now they know what to work on.
 Schedule
| Day | Time |
| --- | --- |
| Tuesday | 4:15 PM |
| Thursday/Friday | 4:30 PM & 6:30 PM |
| Saturday | 10:00 AM; Finals begin at 6:30 PM |
Pool Play
| Group A | Group B | Group C | Group D |
| --- | --- | --- | --- |
| La Cueva | Eldorado | Manzano | Sandia |
| Valley | Cibola | Volcano Vista | Abq. Academy |
| Hope Christian | Del Norte | Rio Grande | Albuquerque |
| Atrisco-Heritage | Highland | St. Pius X | West Mesa |
Bracket
Download the Bracket (PDF)