Metro Tournament begins this evening
Make sure to read our Metro Tournament Preview. It looks like ProView Networks is broadcasting the pool matches. Head on over to proviewnetworks.com for the broadcast schedules.
NMSU's Jené Coppedge VB Diary
The talented sophomore DS makes another entry in the BleedCrimson.net volleyball blog.
http://www.bleedcrimson.net/node/4632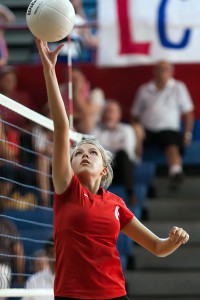 Abney moves up to LCHS Varsity Squad
It looks like Las Cruces High has made a major investment in their future by moving Alyssa Abney, a freshman, to their varsity squad as their starting setter. The Bulldawgs have been battling consistency issues at the setter position over the past few seasons–Sarah Fountain stepped in last season and did a good job, but as a senior only spent one year at the helm.
Leupold is probably not looking for an immediate fix, but thinking long term with this move; I think this will pay some major dividends by the beginning of the 2012 season.
Mayfield sees changes at setter position
Looks like Cruces isn't the only team with changes at setter-Kat Romanelli, a sophomore, has been moved into the starting position after the departure of the Trojan starter during the first week of the season.
Even though the move was forced, overall it's probably a much better situation for the Trojans, with Allyson Lucht (senior outside) being the primary beneficiary. I think Romanelli, while making the typical mistakes a younger player makes, is feeding a more consistent ball and giving her hitters a larger variety of options.
Mayfield also lost senior outside Haley Bloomquist last week after re-aggravating a knee injury.
Tonight's Games
| | |
| --- | --- |
| 07:00 AM | Deming High School at Onate High School |
| 09:36 AM | Portales High School at Clovis High School |
| 10:00 AM | Mini Tournament |
| 10:53 AM | Los Lunas High School vs. W. Las Vegas High School |
| 11:00 AM | Mini Tournament |
| 01:50 PM | Robertson High School |
| 02:17 PM | Mountainair High School |
| 02:28 PM | Jal High School vs. Lovington High School |
| 04:00 PM | De Vargas Middle School at El Dorado Community School |
| 04:00 PM | Santa Fe Prep vs. Bosque School |
| 04:00 PM | Ortiz Middle School vs. Capshaw Middle School |
| 04:00 PM | Tucumcari High School at Springer High School |
| 04:00 PM | Tucumcari High School at Springer High School |
| 04:00 PM | Raton High School Volleyball |
| 04:00 PM | Rehoboth High School at Thoreau High School |
| 04:00 PM | Thoreau High School vs. Rehoboth High School |
| 04:00 PM | Vaughn |
| 04:00 PM | Los Alamitos Middle School at Belen Middle School |
| 04:00 PM | Tohatchi High School at Laguna Acoma High School |
| 04:00 PM | Wingate High School at Grants High School |
| 04:00 PM | Hatch Valley High School (Hatch, NM) at Santa Teresa High School |
| 04:00 PM | Gadsden vs El Paso at Gadsden High School |
| 04:00 PM | Chaparral vs Loretto at Chaparral High School |
| 04:30 PM | Metro Championship |
| 05:00 PM | El Dorado Community School vs. De Vargas Middle School |
| 05:00 PM | Santa Fe Prep vs. Gonzales Community School |
| 05:00 PM | Rio Rancho High School vs. St. Michael's High School (Santa Fe, NM) |
| 05:00 PM | Newcomb High School at Shiprock Northwest |
| 05:00 PM | Native American Community Academy at To'Hajiilee High School |
| 05:00 PM | Lordsburg High School vs. Cobre High School |
| 05:00 PM | Cuba High School vs. Escalante High School |
| 05:00 PM | Walatowa High Charter School at Menaul High School |
| 05:00 PM | Rehoboth High School at Thoreau High School |
| 05:00 PM | Hagerman High School VS Cloudcroft High School |
| 05:00 PM | Deming High School at Onate High School (Las Cruces, NM) |
| 05:00 PM | Lovington High School at Jal High School |
| 05:00 PM | Hondo Valley High School vs. Elida High School |
| 05:00 PM | Mesilla Valley Christian School vs. Hot Springs High School |
| 05:00 PM | Dexter High School vs. Tularosa High School |
| 05:00 PM | Los Alamitos Middle School at Belen Middle School |
| 05:00 PM | Tohatchi High School at Laguna Acoma High School |
| 05:00 PM | Wingate High School at Grants High School |
| 05:00 PM | Hatch Valley High School (Hatch, NM) at Santa Teresa High School |
| 05:00 PM | Gadsden vs El Paso at Gadsden High School |
| 05:00 PM | Chaparral vs Loretto at Chaparral High School |
| 05:00 PM | Las Cruces JV vs. Ruidoso JV |
| 05:30 PM | Floyd High School vs. Melrose High School |
| 05:30 PM | Floyd High School vs. Melrose High School |
| 05:30 PM | Capitan High School |
| 05:30 PM | Bosque School at Santa Fe Prep |
| 05:30 PM | Lake Arthur High School vs. NMMI High School |
| 05:30 PM | Dora High School vs. Eunice High School |
| 06:00 PM | Clovis Christian School at Logan High School |
| 06:00 PM | Deming High School at Onate High School (Las Cruces, NM) |
| 06:00 PM | Tohatchi High School at Laguna Acoma High School |
| 06:00 PM | Wingate High School at Grants High School |
| 06:00 PM | Santa Teresa |
| 06:00 PM | El Paso High School (, TX) at Gadsden High School |
| 06:00 PM | Loretto Academy (El Paso, TX) at Chaparral High School |
| 06:00 PM | Las Cruces V vs. Ruidoso V |
| 06:00 PM | Dexter High School vs. Tularosa High School |
| 06:00 PM | Gallup vs. Bernalillo |
| 06:30 PM | Lordsburg High School vs. Cobre High School |
| 06:30 PM | Mesilla Valley Christian School vs. Hot Springs High School |
| 06:30 PM | Floyd High School at Melrose High School |
| 06:30 PM | SHiprock @ Bloomfield VVB |
| 07:00 PM | Ignacio High Schoool |
| 07:00 PM | SFP vs Bosque |