Hegarty makes move to Piedra Vista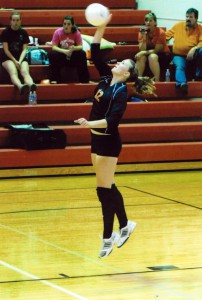 Katie Hegarty, one of the four area mentions in PrepVolleyball.com's Soph 79, has transferred to from Atzec to Piedra Vista.
The 6′ 2″ junior middle looks to make the same impact for the Lady Panthers, that she did for the Aztec Tigers, where she racked up 371 kills and 196 blocks in 2010.
I had the opportunity to meet Katie at the All-Star game, and I'm crossing my fingers to get an interview with her soon!
Metro Tourney Updates: Bracket is set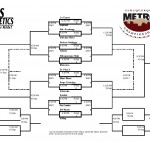 I'm unsure of the actual scores and match results for all teams, but it looks like St. Pius and Cibola were the only undefeated teams in pool play.
Hope Christian gave La Cueva a run for its money, splitting with the Bears while Sandia split with Academy.
The image on the left is the bracket (with match times and home team info) for the action that starts on Thursday. You can also view the bracket in PDF.
El Paso Eastwood sweeps Montwood
The Troopers win the battle of the 'woods, defeating Montwood in three, 25-21, 25-17, 25-8.
Tulie rolls past Dexter
Looks like the Lady Demons had a little fire in 'em on Tuesday against Tularosa, but not enough to overcome Tularosa's fine offense and effective serving.
Read more in the Alamogordo Daily News
Syling Getting it Done
Speaking of Lady Wildcats, Hannah Syling, the 2010 2A Player of the Year, is beginning to make waves at Oklahoma Panhandle.
Playing the fourth match of the OPSU Spiketacular, Syling racked up 16 kills to lead all hitters in the Aggies' final game with University of the Southwest.
Scores from last night
Mesilla Valley Christian 3, Hot Springs 1
Clovis 3, Portales 2
Gadsden 3, El Paso High 2
Oñate 3, Deming 0
Los Lunas 3, W. Las Vegas 0
Robertson 3, Mora 2
Bosque 3, Santa Fe Prep 1
Lovington 3, Jal 0
Springer 3, Tucumcari 0
Thoreau 3, Rehoboth 0
Las Cruces 3, Ruidoso 2
Aztec 3, Ignacio (CO) 0
Cloudcroft 3, Hagerman 1
Eunice 3, Dora 0
Hatch Valley 3, Santa Teresa 0
Lordsburg 3, Cobre 0
Melrose 3, Floyd 0
Tonight's Games
Note the later, specific time for the SFI/Taos match
| | |
| --- | --- |
| 05:00 PM | East Mountain High School vs. Sandia Prep High School |
| 05:00 PM | Coronado High School at Tse Yi Gai High School |
| 06:30 PM | Moriarty High School at Capital High School |
| 11:17 PM | Santa Fe Indian School vs. Taos High School |