Metro Tourney Continues
Looks like St. Pius defeated West Mesa (3-0), Albuquerque Academy beat Volcano Vista (3-0), La Cueva cruised by Higland (3-0), and Cibola handled Atrisco (3-0). I'm not sure what the scores for the rest of the matches were, but the match info for today has been updated.
In somewhat of a shocker, 3A Hope Christian brought down Eldorado to progress into the championship bracket to face St. Pius.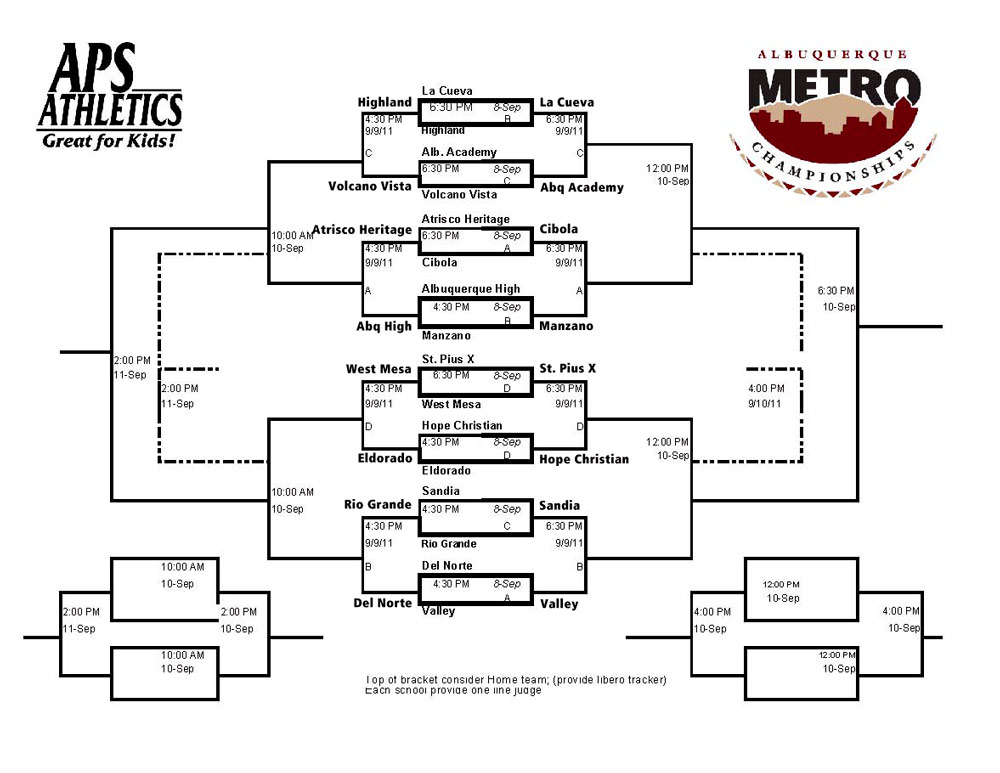 Piedra Vista Classic kicks off today
The two day Piedra Vista Classic starts this morning at 9 AM, which includes a pretty good distribution across 4A, 3A and 2A schools. Notable squads include Piedra Vista (#5 4A), Pojoaque (#1 3A) and Navajo Prep (#4 2A). Good luck to all the teams.
Pool Play
| Group A | Group B | Group C | Group D |
| --- | --- | --- | --- |
| Piedra Vista | Monument Valley (AZ) | Pojoaque | Kirtland |
| Shiprock | Farmington | Aztec | Mancos (CO) |
| Wingate | Navajo Prep | | |
| Tohatchi | Piedra Vista JV | Newcomb | Bloomfield |
"Slow Starts Cost Lobos"
The Comcast/Sheraton Invite begins tonight at UNM and according to the article in today's Journal, the Lobo's "ho-hum" 3-2 record, is the fault of slow starts against opponents–they've dropped four of five opening sets. Not sure if 3-2 is "ho-hum" considering Lisa Meeter and Jade Michaelson, the core of last year's team, have departed.
UNM faces UC Irvine tonight at 7:30.
Aggies @ CenturyLink Premier
The New Mexico State volleyball team heads to San Marcos, Texas to play in the CenturyLink Premier hosted by Texas State, Sept. 9-10.  The Aggies face Louisiana-Lafayette at 8am (MT), Friday, Aug. 9 before taking on Houston Baptist at 12pm.  The Aggie then face Northwestern State at 8am (MT), Saturday, Sept. 10 and wrap up the tournament against host team Texas State at 12pm.
Scores from last night
Carrizozo 3, Captian 0
Alamogordo 3, Santa Teresa 1
Mescalero Apache 3, Ruidoso JV 0