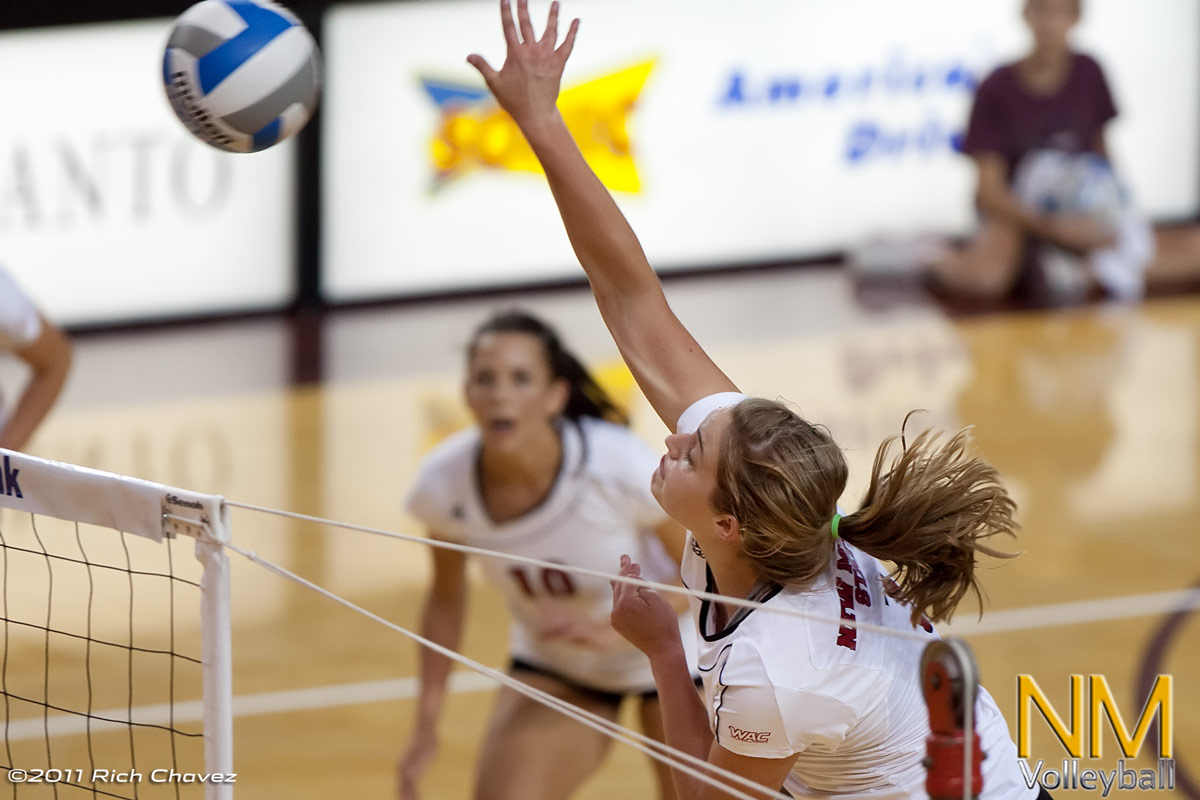 The Aggies had a strong day at the CenturyLink Premier tournament in San Marco, TX, sweeping Louisana-Lafayette (25-13, 25-16, 25-16) and Houston Baptist University (25-15, 25-18, 25-22).
SAN MARCOS, Texas – The New Mexico State volleyball team swept Louisiana-Lafayette in its first match of the CenturyLink Premier hosted by Texas State winning 25-13, 25-16, 25-16 in the Strahan Coliseum in San Marco, Texas, Friday, Sept. 9.
Freshman Meredith Hays led the Aggies posting a match-high 13 kills, while hitting .320 and coming up with eight digs.  Senior libero Kelsi Phillips marked a match-high 11 digs while posting a match-high three service aces.  It was the third time this season Phillips has tallied three aces in a match.
Sophomore outside hitter Deirdre Pajares came up with seven kills on 12 attempts to post a .500 hitting percentage as she had one error on the morning. It was the second time in her career she has tallied a .500 hitting percentage or better.  Middle hitters Desiree Scott and Kelsey Brennan added five kills each in the match and senior setter Jennah DeVries came up with  a match-high 30 assists.
NM State fell behind 5-1 in set one but rallied back and took a 6-5 lead after Phillips posted her first ace of the day.  She tallied two more aces later in the set to give the Aggies a 19-13 lead and served for ten consecutive points while NM State won 25-13.
Set two was a bit closer with ties at 11, 12 and 16.  The Aggies took over when the set was tied at 16-16 and sophomore defensive specialist entered the match to serve for eight straight points to lead the team to a 25-16 victory. Hays led the way with six kills in the set and sophomore Stephanie Ziegler came up with six of her seven total digs in the set.
The Aggies took set three by the score of 25-16 with Phillips leading the defensive charge marking five digs.  The set was tied just once at 1-1 and the Aggies never lost the lead after that.  A kill by Brennan gave NM State an early 5-3 lead before freshman Gwen Murphy finished off the Rajun Cajuns with two consecutive kills picking up points 24 and 25.
To top it all off, freshman OH Meredith racked up 21 kills, a career-high, against Houston Baptist.
SAN MARCOS, Texas – Freshman Meredith Hays tallied a career-high 21 kills as the New Mexico State volleyball team swept Houston-Baptist 25-15, 25-18, 25-22, in the CenturyLink Premier, which is being held in the Strahan Coliseum in San Marcos, Texas, Sept. 9.
Senior setter Jennah DeVries was just one assist short of her season-high marking 41 assists while adding nine digs, four kills and a block assist. Senior libero Kelsi Phillips marked 15 digs, which is her best performance in a three-set match this season. Sophomore Stephanie Ziegler finished the match with seven kills and 11 digs and senior middle hitter Michelle Kuester made an impact on the match with four kills on six attempts to go along with three digs and two block assists on the defensive side of the net.
Hays posted 10 of her 21 kills in the first set and marked a .600 hitting percentage making only one error in the set. The set was tied 12 times and the lead changed seven times with NM State taking its final lead at 14-13 before going on an 11-2 scoring rally to win 25-15.
The Aggies hit .306 in set No. 3 as a team and finished with 16 kills and two total team blocks.  Sophomore middle hitter Desiree Scott impacted the set with three kills and a block, while forcing the HBU hitters to hit off balance with her blocking attempts in the middle of the net.  NM State took the lead at 4-3 and never lost it winning set two 25-18.
NM State stumbled a little in set No. 3 but finished off the Huskies with a 25-22 victory.  Four different Aggies marked at least three kills in the set and Hays was the only Aggie with a service ace.  The Aggies went up by as many as five points twice, but errors hurt the Aggies and got HBU to within one at 23-22.  Two kills by Hays wrapped up the match giving NM State a 6-2 record on the year.
Tomorrow's match times have been changed to 9am (MT) and 1pm (MT).  The Aggies face Northwestern State at 9am and take on host team Texas State at 1pm.